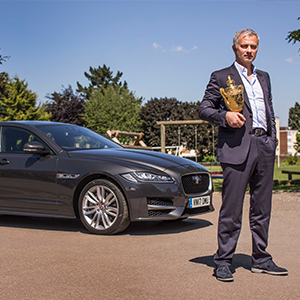 José Mourinho has added another trophy to his collection with help from a Jaguar XF, two schoolchildren, some cardboard and a little gold paint.
With a well-known penchant for collecting silverware, Mourinho targeted fellow Jaguar ambassador Andy Murray on the eve of his Wimbledon title defence. The trophy heist was part of a short film to celebrate the launch of the new Jaguar XF Sportbrake and kick off a special Jaguar trophy tour.
To inspire the next generation of grass roots tennis talent, the two-time Wimbledon Champion and world number one has given up his replica men's singles trophy for a special tour in the XF Sportbrake. The tour will end at Goodwood Festival of Speed in the UK (29 June – 2 July) where the trophy and car will be on public display.
The tour takes in schools and tennis clubs in the weeks leading up to The Championships, Wimbledon, 2017 and gives children from all backgrounds the chance to get their hands on Andy's famous trophy.
Jaguar's film shows the tour coming to a halt at a London school when Mourinho steals the famous gilt cup. Armed with a cunning plan and some craft supplies, Mourinho and his two young accomplices attempt to steal Murray's trophy as the reigning champion tries to keep track of his prized cup using the premium estate's InControl Remote app. This advanced technology and connectivity allows customers to monitor the location of their vehicle using a smartphone. Owners can lock or unlock the doors, check the fuel level and even set the cabin temperature remotely.
Andy Murray said: "Apparently, I'm the first winner in the history of Wimbledon to give up their replica trophy like this. It was hard to part with it but it's for a great cause and I know it's in safe hands in the XF Sportbrake, especially with its special safety features and technology so I can keep track of it."
The new Sportbrake joins Jaguar's award-winning XF saloon in its tenth year of production and delivers a compelling combination of design, driving dynamics and advanced technologies to provide traditional Jaguar grace, space and pace.
The dynamic estate is available with Jaguar's advanced range of clean and efficient four-cylinder Ingenium petrol and diesel engines with CO2 emissions as low as 118g/km. At the top of the range sits a six-cylinder 300PS 3.0-litre V6 diesel engine that sprints to 60mph in 6.1 seconds.
The XF Sportbrake was introduced by Andy Murray on a replica Wimbledon centre court in London earlier this month and is manufactured at Jaguar Land Rover's Castle Bromwich plant alongside the XE, XJ and F-TYPE model lines.
Jaguar is entering its third year as Official Car of The Championships, Wimbledon, which runs from Monday 3 July to Sunday 16 July. During the tournament Jaguar will supply 170 vehicles from its award-winning range, including the XE, XF, XJ and F-PACE.