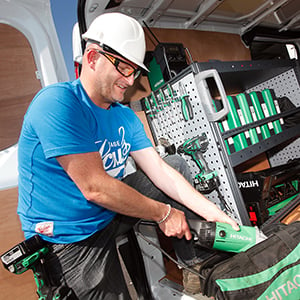 INITIATIVE: Hitachi launch Trade Ready Solutions
Hitachi Capital are introducing Trade Ready Solutions, a market-first marriage of van, racking and a tailored power tools kit.
The venture, aimed directly at the professional trades industries, is a collaboration between Hitachi Capital Commercial Vehicle Solutions and sister company Hitachi Power Tools.
Promising simple monthly payments and anationwide maintenance and repairs network for both vehicles and tools, Hitachi claim this will provide peace of mind for their customer base.
Jon Lawes, Divisional Managing Director at Hitachi Capital Commercial Vehicle Solutions, said: "With both commercial vehicles and power tools within the same global company, we are in a unique position in the industry and the obvious synergies between power tools and commercial vehicles make this new, no-risk service offering for customers a powerful proposition."
Simon Miller, Brand Manager at Hitachi Power Tools, added: "We are delighted to be working with our industry-leading sister company on this innovative project and look forward to supplying tradesmen across the UK with a high-quality package including our market-leading range of 5.0Ah Li-Ion cordless tools.
"I believe the advantage of a full service backup at the end of a phone line will make this an unbeatable offer for trade professionals."