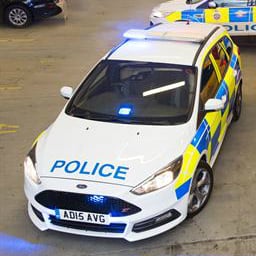 Police forces nationwide have chosen both the Ford Kuga sport utility vehicle (SUV) and Transit Custom van to renew fleets from 2016. In a total deal comprising 1,100 vehicles, forces across the country have recognised the Kuga's all-wheel drive capability and versatility of the iconic Ford Transit.
First the UK's northern consortium of 22 police forces ordered 680 Ford models, including 120 Kuga SUVs and 560 Transit Custom medium vans. Half of the Transit Customs will be supplied by Ford as cell vans, converted by its Special Vehicle Preparation (SVP) operation into a vehicle capable of securely transporting two detainees, accompanied by up to five police officers.
Ford Kuga and Transit Custom were also top of the SUV and van wish list of the country's southern consortium, which includes six fire services as well as 28 police forces. They also added 110 Ford Transit Connect light vans and 30 Ranger pick-ups to the 80 Kugas and 200 Transit Customs which made up their Ford order.
"Ford has a long history of working with emergency services spanning 50 years," said Terry Adams, Ford direct sales manager. "The stylish and capable Ford Kuga has established itself as their rural beat car of choice with all-important all-wheel drive necessary for winter conditions."
British Transport Police, South Wales and Dyfed Powys are other forces with Ford Kugas on their fleets. The market-leading Ford Transit Custom is used in every police region in the country, with roles as cell vans, crime scene units, dog carriers and camera vans.
The new all-wheel drive Ford Mondeo is considered the best estate for the transportation of police dogs. Its high payload and volume capacity best meet new DEFRA and RSPCA guidelines on in-car kennel size and welfare of dogs in transit.
Broadcaster, Ford driver and dog owner, James Whale (pictured), visited Ford SVP, in Essex, to see how Mondeos are converted into dog units and to be introduced to the acclaimed new Kuga police SUV and newly finished Ford Focus ST patrol car. The addition of a diesel estate to the Focus ST range last year attracted great interest from the police in its combined performance, fuel economy and generous load space – prompting SVP's special build of a one-off demonstrator.