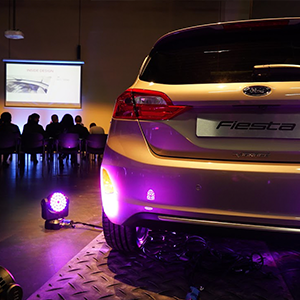 London's interior design students introduced their visions of the future to the Ford design specialists behind the all-new Fiesta.
Ford interior designer, Jens Sieber, and exterior designer, Ivan Telesca, heard the presentations and chose the top three going through to the next round.
Team Dies Nox designed its interior around a 270-degree centre console screen running along the floor, the rear of the cabin and its roof for all occupants to be able to reach, swipe and share digital content. The interior included steam-curved bamboo, already being researched by Ford as a fast-growing renewable material for future vehicles.
Iris Apfel (instagram.com/iris.apfel), the 95-year-old American business woman and interior designer, was the inspiration for Team Iris' entry. Drawing on her "world's oldest teenager" lifestyle, a pop-up roof and bar stool seating converted the car interior into social space – with stools detaching from the car to deliver Iris directly onto the red carpet of events.
Team Nomad chose fibre optics for its interior material to mould to the number of occupants and their desire to sit or recline. Nomad's concept involved a brain-computer connection, syncing occupant to the vehicle. Fibre optics' data-carrying capability allowed the technology to monitor and respond to changes in body temperature, organs and the health of passengers.
Jens Sieber, Ford Fiesta chief interior designer, said: "Ravensbourne's students have very successfully illustrated possible future car interiors, inspired by the leap inside new Fiesta. I was thrilled by the quality presented, which took into account customer research to help shape workable next-generation interiors."
Following display of the three best Ravensbourne projects at Ford's European design studio, alongside other finalists from France, Germany, Spain and Italy, an overall UK winner will be chosen for work experience with Ford designers in Cologne in autumn and receive £600 prize money.
Idrees Rasouli, a Ravensbourne course leader, said: "This was a fantastic opportunity for Ravensbourne students to gain the experience of working for Britain's best-selling vehicle brand.
"Ravensbourne has first class industry connections, and opportunities like this ensure our students learn the skills needed to thrive in industry, gain the chance to transfer their interior design and architectural skills into vehicle design and make them highly employable."