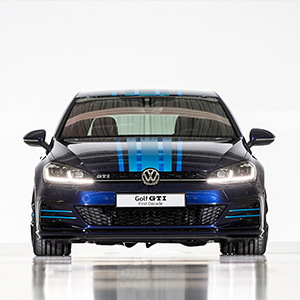 Tomorrow (Wednesday) a very special Golf GTI is to make its world debut at the Wörthersee meeting. 13 apprentices from Volkswagen and Sitech are waiting anxiously as they will be presenting the first GTI that also features electric propulsion: the Golf GTI First Decade.
The name indicates that this show car is the 10th apprentices' GTI to be presented by talented young people from Wolfsburg at the traditional GTI fans' meeting in Austria.
The Golf GTI First Decade was created in slightly less than nine months on the basis of ideas provided by apprentices in six vocations. In the interior and exterior design, the five women and eight men were inspired by the many and varied blue tones of water and sky on the Wörthersee.
The Golf GTI First Decade combines a 410 PS (300 kW) petrol engine driving the front wheels with a 48-volt electric motor that drives the rear wheels with a maximum output of 12 kW. The two drive systems can be used separately but also work hand-in-hand when required.
The car can be operated conventionally (front-wheel drive), in purely electric mode (rear-wheel drive) and in combined mode (all-wheel drive). The mild electric propulsion system offers the benefits of zero-emission, silent driving during parking manoeuvres and for short distances in residential areas or in stop-and-go traffic (electric mode).
Through the recovery of braking energy (regenerative braking), two batteries in the rear of the vehicle are charged. This energy allows further carbon-neutral driving in electric mode. On more demanding surfaces, the combination of front and rear-wheel drive for starting assistance (electric all-wheel mode) comes into its own.
The modes can be selected and controlled from a tablet PC using an app or from the infotainment display via Mirror Link.
"During the creation of their dream GTI, our apprentices learn about the complexity and future challenges of automobile production. They gain further experience in the use of digital technologies, the application of system technology and electro-mobility," says Peter Christ, Head of Automotive Technology Training in Wolfsburg.
"This is why we choose our strongest talents and offer them the opportunity to learn from experienced instructors and experts from the entire company at an early stage." This year, the departments concerned included Design, Group Research Drive Systems, Technical Development, the pilot hall, the seat center, plastic parts production and the paint shop.