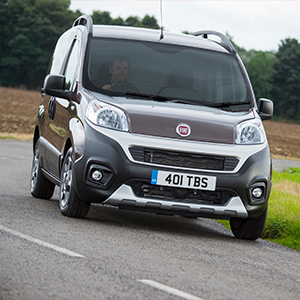 Talento is the new model to the range. A generous load capacity helps to make it the ideal workmate for professionals, adding to its great versatility and ability to adapt to the most diverse needs of its customers.
The name Talento evokes the innate qualities of the vehicle and the concept of traditional Fiat Professional value and dependability by making reference to the name of an ancient coin – the Talent. The name has high symbolic value and suggests what the vehicle can do, its abilities and, in short, its talent. Prices start at £19,995 (excluding VAT, VED, delivery and plates) for the 1.6 SWB 10 MultiJet 95 HP.
Fiat Professional Ducato 35 MWB HR 130BHP 2.3
The sixth generation of the hugely successful FIAT Professional Ducato, which has notched up 2.9 million sales over six generations since it was first launched in 1981, continues to set the segment benchmark not only in Europe but also in the 80 international regions in which it is on sale.
Last year the Ducato was improved even further with the introduction of a comprehensive range of class-leading Euro 6 engines, exclusively employing Low Pressure Exhaust Gas Recirculation system (LPEGR) to lower NOx emissions.
With excellent dynamics, comfort and best-in-class load and volume capacities, the new Fiat Ducato is available in three wheelbases, four lengths, three roof heights, five gross vehicle weights and four engines, giving a tailor-made solution for every need.
Additionally, maximum loads on front and rear axles are enough for any conversion use (from 1850kg to 2100kg on the front axle, from 2000kg to 2500kg on the rear axle). Prices start at £21,945 (excluding VAT, VED, delivery and plates) for the 2.0 SH1 30 MultiJet II 115HP.
Fiat Professional Fullback LX Double Cab 180BHP 2.4 5 Spd Auto Pickup
With the new Fullback, Fiat Professional has entered the buoyant medium-duty pick up segment which accounts for 650,000 vehicles a year in the EMEA (Europe, Middle East and Africa) region. Engineered to meet the broad needs of business users – both professional and recreational – the new Fiat Professional Fullback offers high levels of flexibility and dependability.
The front of the Fullback adopts the upmarket appearance of a sports SUV with its swept-back fascia, chunky front bumper and roomy cab-forward layout. Distinctive swage lines along the flanks tie the front of the pickup truck to the rear and, along with the sweeping shape of the front and rear lamps, help fully integrate the load bed as part of the vehicle's overall design. Prices start at £21,095 (excluding VAT, VED, delivery and plates) for the 2.4 Diesel 150HP Double Cab 6 Spd Manual SX (MY16).
Fiat Professional Doblò Ecojet 1.3 95HP MultiJet II
The fourth-generation FIAT Professional Doblò received a fresh exterior design, improved engine performance and an 'EcoJet' version when it was launched in early 2015. It was also the first vehicle to wear the full Fiat Professional logo on its tailgate.
Produced in the Tofaş plant in Bursa, Turkey, the new Doblò is available in four body styles, four specification levels, and four powertrain options. With a payload of up to one tonne and a load volume of up to 5.0m3, the Doblò Cargo has impressive carrying capacity both in terms of weight and size, which makes it ideal for commercial use.
Its engine range provides low running costs and emissions, while the large number of variants offered make an excellent range of choice for any business looking to either expand or make changes to their fleet. Prices start at £13,345 (excluding VAT, VED, delivery and plates) for the Cargo 1.4 95 HP MPI.
Fiat Professional Fiorino 1.3 80 HP MultiJet II
With over 370,000 units sold since it was first launched, the model that invented the small van segment was refreshed in 2016 to consolidate its market position and offer even more to the professional user.
The new Fiat Professional Fiorino retains the compact dimensions that make it perfect for use in cities: agile in traffic and easy to park, without sacrificing any of its remarkable load capacity of up to 2.8 m3 or payload capacity of up to 660kg.
The Fiorino features modern design touches, inside and out, with new ideas that help it retain its position as a top choice in terms of performance, running costs, comfort and functionality. Prices start at £11,565 (excluding VAT, VED, delivery and plates) for the Cargo 1.4 75 HP Fire.
In addition, other exhibits on the Fiat Professional stand include vehicles from some of the company's best-known customers, including a Ducato van displaying the livery of British Telecom and a Royal Mail-decorated Doblò Cargo.
This year's (25-27 April) stand, at Birmingham's NEC, will follow Fiat Professional's current 'Work Hard. Look Good' marketing campaign which combines the look and feel of a tough gymnasium with the workmanlike attitude of Fiat Professional's vans and pickups.
Fiat Professional continues to build on its exceptional sales successes in the UK. Recent figures show how the company was second most improved van manufacturer during March, while its market share rose by 0.7 % to 3.4%. Fiat Professional continues to win top awards and recently took Best Light Van (Doblò) and Diesel Eco Van (Fiorino) in the Vans AtoZAwards.
"We are delighted to demonstrate our entire range of award-winning vehicles, and those of some of our valued customers, on this exciting CV Show stand," says Alejandro Noriega, head of brand, Fiat Professional UK. "Our growing success in meeting the demands and expectations of customers big and small, highlights the increasing competitiveness of our commercial vehicle line-up. We will continue to grow and develop throughout 2017 and beyond."