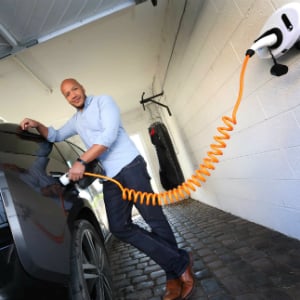 An online business which sells charging cables for electric vehicles is to start a new cable leasing service aimed at fleet vehicles.
Set up in September last year, 4EV has already sold hundreds of cables to electric vehicle owners across the UK and Europe through its website www.4ev.co.uk
The company was launched by entrepreneur and EV driver Darren Pegram after he bought his own electric car and realised there were a limited number of places he could buy charging cables at a reasonable price.
With a background in IT and ecommerce and a passion for all things electric, Darren has big plans for 4EV and is now about to launch a new leasing service which will allow fleet managers to lease charging cables for a set amount of time, returning or updating them once the lease on their vehicles has expired.
Darren, who lives in Darlington, said: "Since 4EV was established we've mainly been targeting private electric vehicle owners and have built up a great following from that.
"It seemed to me that the next logical step in growing the business would be to look at the option of leasing cables.
"More and more fleet managers are looking at increasing the number of low emission or electric vehicles within their fleet and, in addition to that, more companies are offering employees the option of choosing an electric vehicle as a company car.
"We are sure there is a market for this type of service and would be very interested to hear from any organisations which could benefit from this option."
4EV is now looking to gauge the level of interest in the cable leasing service and is asking any interested organisations to submit their details via the 4EV website at www.4ev.co.uk.
Darren is also hoping to run a leasing pilot project and is looking to work with a small number of organisations to trial the system. If you have a fleet of between one and five electric vehicles and would like to take part, please contact 4EV on 0844 804 4189 or email fleet@4ev.co.uk.