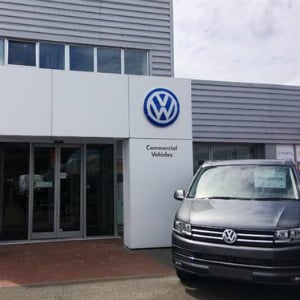 Volkswagen Commercial Vehicles' Colindale Van Centre has undergone substantial expansion following considerable investment by the Citygate Group. The Van Centre has been completely transformed to become a standalone facility, boasting an improved showroom, increased used vehicle stock levels, as well as new commercial vehicle onsite paint and bodyshop.
A former shared site, the Colindale Van Centre on Capitol Way in London has been redeveloped to create a considerably larger facility. The Van Centre now features a new showroom capable of displaying up to eight vehicles, including a separate California lifestyle area and commissioning room which has been designed to enhance customer experience.
In addition, the used vehicle stock display area has also been increased to allow up to 40 vehicles to be showcased at one site. This extra room has enabled the Van Centre to include a full range of used 'Engineered to Go' products in its stock to cater for customers that require Luton, dropside or tipper models.
The new standalone facility also benefits from the introduction of an onsite paint and body shop which is capable of accommodating the new Crafter range. The enhanced facilities have enabled the Van Centre to extend its aftersales capacity and in turn, this has led to the recruitment of a second specialist service advisor and extended workshop opening hours from 7am to 7pm.
Richard Blunden, National Network Development Manager for Volkswagen Commercial Vehicles, said: "The newly-transformed Colindale site is further proof of how we are working with our partners to provide the best levels of service to our customers. The redeveloped Colindale Van Centre has seen a great deal of investment by Citygate and is testament to the ongoing confidence our investors have in the Volkswagen Commercial Vehicles brand.
"Volkswagen Commercial Vehicles continue to work with its customers to help them to reduce costly downtime. The aftersales facilities within the Van Centre, combined with the launch of new extended opening hours in the workshop, will have a positive effect on minimising this issue for Colindale Van Centre customers."
For details on the new site visit https://www.volkswagen-vans.co.uk/van-centres/citygate-colindale-van-centre/about-us.