The popular FUSO Canter has hit the trophy trail again, scooping a double success at the 2018 Trade Van Driver Awards.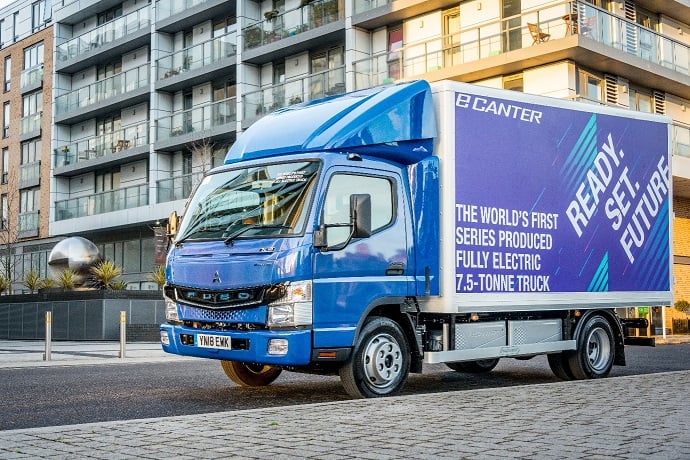 Within weeks of the first examples taking to the streets of London, the ground-breaking FUSO eCanter won its first UK accolade in the Best Alternative Fuel Light Truck category.
Hailed as "a real e-innovation in urban delivery", the fully-electric 7.5-tonner was praised by the judges for offering operators "the perfect solution in a traditional light truck combination of robust chassis with a seemingly endless array of bodywork options. The eCanter is and will be a popular choice for 'big brand' urban delivery specialist companies," they enthused.
Meanwhile, the all-wheel drive 6.5-tonne Canter variant retained the Best Heavy-duty 4×4 title it has now won five years in a row! "Many operators require a vehicle that can deal with extreme conditions, and the Fuso Canter 4×4 offers that solution and more," said Trade Van Driver. "Off-road ability combined with functionality make this feisty off-roader the judges' choice."
Trade Van Driver caters for the owner-driver and small fleet operator. Its awards are judged not only by the magazine's expert journalists but also by a panel of readers who use light commercial vehicles in their businesses.
The UK's first examples of the FUSO eCanter were handed over to Wincanton, DPD and Hovis for operation in the capital last month (March). The whisper-quiet vehicle combines a highly competitive body and payload allowance of up to 4.5 tonnes with zero tail-pipe emissions.
It is powered by six high-voltage, water-cooled lithium-ion batteries with 420 V and 13.8 kWh each. The electric drivetrain with a permanent-magnet motor delivers 129 kW (180 hp), which is transferred to the rear axle by a standard single-speed transmission.
A full charge allows effective operating ranges of over 100 km, which is more than enough for inner-city distribution. In addition to their environmental credentials, the vehicles now in operation in London offer savings worth as much as 1,000 Euro for every 10,000 km covered, compared to a conventional diesel truck.
Powered by a 129 kW (175 hp engine) able to carry up to 3,880 kg, the Canter 4×4 is easily distinguished from its stablemates by its raised ride height. It is equipped with selectable four-wheel drive. In 4×2 mode on road, the truck is impressively fuel-efficient, while all-wheel drive – which can be engaged or disengaged at the touch of a button – ensures powerful traction and solid climbing ability on rugged terrain or for winter roads.
Sold and supported by Mercedes-Benz Dealers in Great Britain, the Canter family also includes 4×2 variants with gross weights from 3.5-8.55 tonnes. Customers can choose from Comfort day cabs and Double crew cabs, and engine outputs from 96kW (130 hp) to 129 kW (175 hp), while the line-up features a well-established diesel-electric Eco Hybrid model, too.
Its light yet strong ladder chassis contributes to the Canter's low unladen weight – 7.5-tonne variants in particular, offer market-leading payloads. The vehicle's compact dimensions and excellent manoeuvrability also make it ideally suited to operation in urban areas, and applications in which access is an issue.
Customers can also now choose 3.5- and 7.5-tonne chassis pre-fitted at FUSO's main European production facility in Tramagal, Portugal, with dropside and tipping bodies by the highly regarded Italian manufacturer Scattolini. This new programme offers significant savings in time and administration.
Lloyd Bonson, Product Manager – FUSO, at Mercedes-Benz Trucks, declared: "FUSO is an established leader in the field of innovation and the eCanter proves that fully electric trucks are no longer the stuff of science fiction.
"Its introduction marks a genuine turning point in the history of urban transportation, so it is entirely fitting that this hugely significant new model should have been honoured by Trade Van Driver with its Best Alternative Fuel Light Truck award.
"As for our 4×4 model, no other vehicle in its class can do what the all-wheel drive Canter can do. For those who have not driven one before, its performance and capability off-road is invariably a real eye-opener."