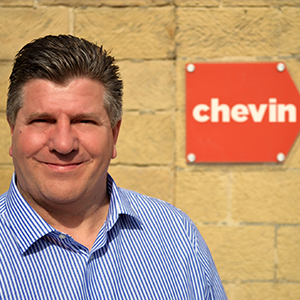 Chevin Fleet Solutions has completed a deal in the Democratic Republic of the Congo as part of its remarkable expansion in international markets.
The Belper-based company is providing a fleet management software system to the United Nations Development Programme, which works tirelessly to help the poor in the war-torn state.
Chevin, whose global sales increased 56% in 2016, already has contracts with the United Nations Relief and Works Agency for Palestine Refugees and the office of the United Nations High Commissioner For Refugees.
Its software has also been vital to the management of the huge fleet of the World Food Programme in helping it to reduce costs, whilst achieving its aim of providing food and other aid to those in need.
The latest contract was sealed by David Gladding, who was recently promoted to the position of Chevin's Global Sales & Marketing Director.
David, who was previously Director of Sales for the UK and Middle East, said the company's success came from listening intently to the customers' needs and creating a bespoke solution.
He said: "We are a world leader in fleet management software because we have a superb product and also because we work so closely with our clients. Wherever they are in the world, our staff will meet with them and work out a precise solution."
David has also been key to Chevin's latest expansion in Australia which has seen it sign deals with both South Australia Police and Life Without Barriers – a not-for-profit organisation which provides care and support to more than 11,500 people living in their own homes or managed residential housing.
Life Without Barriers has used the fleet management system to make more informed decisions about how to use its vehicles and not waste money.
If Chevin's analysis shows that a vehicle not fully utilized, it is replaced or reallocated. Reports can even be generated on specifics such as cost per distance, make or model.
"Correctly 'sizing' the fleet is a fundamental step to significantly reducing unnecessary expense and ensuring best use of client funding. 
"This makes us a very competitive not-for-profit organisation and provides broader benefits to our clients and the whole of business," said Peter Armour, Life Without Barriers' National Fleet Manager.
The Life Without Barriers deal has been made possible through Gladding's appointment of key sales staff in Australia.
Meanwhile, he has also hired a business development manager, internal sales and account manager, Middle East consultant, digital marketing specialist and global communications co-ordinator.
Chevin's expansion has seen yet more contracts secured, including one with the Welsh Ambulance Service Trust which has more than 700 vehicles at over 90 sites.
It needed a web-based fleet management system to manage vehicles, drivers, workshops and stock, requiring different user access levels where possible, data entry through one screen and exceptional reporting functionality. 
Chevin won the contract through a tender process.
David Gladding said: "This is yet another example of us working towards the customer's specific requirements and again proves why we stand above our competition worldwide."