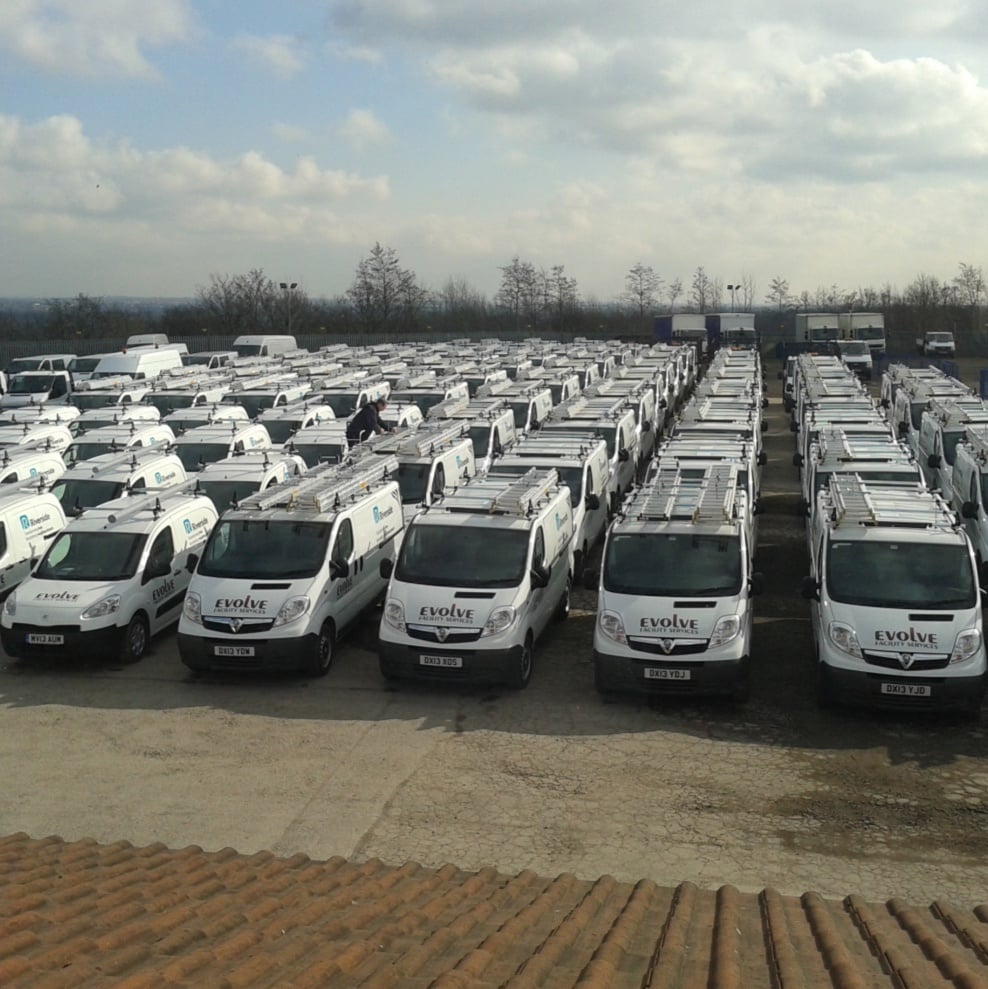 HUGE: Evolve now have 160 Burnt Tree vehicles
Rapid expansion of the Contract Hire division at Burnt Tree is continuing with a bumper new deal for 100 additional vehicles.
North-west company Evolve Facility Services are the benefactors, with the ton haul taking their Burnt Tree hire agreement total to more than 160 vehicles.
In under three years, Evolve have switched their entire fleet to Burnt Tree, on a mix of three, four and five-year deals – all with full maintenance.
The latest order consists of a range of vehicles including short wheel base Ford Transit and Vauxhall Vivaro panel vans.
Evolve have doubled in size over the past two years through major new contract gains – hence the need to dramatically increase their commercial vehicle fleet size.
Burnt Tree have managed the introduction of this large number of new vehicles into the fleet, satisfactorily meeting the time-critical deadlines set by Evolve.
Neil O'Halloran, Managing Director of Evolve, said Burnt Tree have impressed him hugely.
"We needed vehicles quickly to fulfil our contractual obligations to our customers and Burnt Tree was able to provide us with the correct vehicles, at the right time, and in the right place," he said.
"They even supplied us with a number of minibuses to take our drivers up to their branch in Wigan to collect vehicles."
Evolve Facilities Services are part of the Riverside social housing organisation.
Their fleet is primarily used within the company's maintenance and refurbishment programme for properties under contract, together with planned works and recycling of waste materials.
"Our property maintenance programme runs on a daily appointment system so it's essential that our fleet transport operation and support is as efficient as possible," added Mr O'Halloran.
"We cannot afford to have unnecessary down time and this is where Burnt Tree's performance is exemplary, providing us with customer service that is second to none."
Mark Howell, Director of Contract Hire at Burnt Tree, said: "It's pleasing to see that our relationship with Evolve has developed smoothly, whilst also growing quickly, to the extent that Burnt Tree is now the key partner for all their commercial vehicle requirements.
"By working closely with Evolve, we have been able to provide them with a seamless transition from their incumbent supplier, whilst also tailoring the new vehicle specifications to suit their specific working needs.
"At Burnt Tree Contract Hire, we are committed to giving our customers the best service, the best quality and the best support, at all times.
"This is certainly reflected in the partnership we currently have with Evolve, which continues to go from strength to strength."