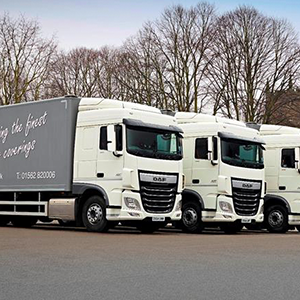 One of the UK's leading floor covering distributors has appointed Licence Bureau to carry out licence checking of its drivers and to ensure they have the right category of licence to sit behind the wheel of its 52-strong truck fleet.
Alliance Flooring Distribution distributes all types of floor covering – carpet, vinyl, laminate, LVT, wood, underlay, flooring accessories, to clients throughout the UK and Europe. Its twice-weekly delivery and collection service makes its business completely dependent on its HGV class 1 and 2 and 7.5 tonne trucks and drivers.
Commented assistance transport manager, Rob Coley: "It is vital for us that we are 100% certain our drivers hold the correct categories of licence for the vehicles they are driving and that we know if the licence holder has any penalty points which could affect their eligibility to drive.
"HGV drivers spend their working day on the road and as employers we have a duty of care both to our workforce and other road users that our drivers are qualified and their licence categories have not expired. We also need to be aware of any penalty points as some penalty codes are not acceptable to our insurers.
"Partnering with the Licence Bureau means we have confidence the right checks have been made. We undertake two checks a year and any new drivers are automatically checked as are drivers who accrue additional penalty points while under their employment.
"Managing the entire process through the Licence Bureau portal means we know the job will be done thoroughly, accurately and at the appropriate times. The portal was easy to set up and the required driver information is very easy to access," he added.
"We are pleased to be working with Alliance to keep the company's trucks and drivers compliant," explained Licence Bureau's managing director Malcolm Maycock. "We have proven that compliant fleets provide peace of mind that they are delivering on their duty of care commitment to their employees," he added.