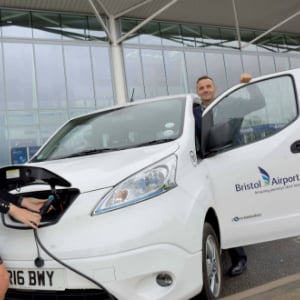 Bristol Airport has landed its second electric vehicle this month (July, 2016) thanks to the help from an award-winning car dealership in the city.
Wessex Garages' Nissan brand centre at Cribbs Causeway has provided another 100% electric, Nissan e-NV200 Combi van to the Airport to help it go green for 2016.
Kate Hancock, Nissan Business Specialist at Wessex Garages on Hayes Way, said: "We're delighted we could once again help Bristol Airport in their bid to go more environmentally-friendly. The Nissan e-NV200 is the most economical, commercial vehicle ever produced. It has been designed to be quiet, quick, comfortable, clean and cost-efficient for businesses.
"This is the second Nissan e-NV200 Combi van we have provided the airport and this time they also decided to purchase a Nissan Qashqai.
"The Airport enquired about a used Qashqai as they thought they only had enough money for something used but with the business discounts we could provide them they decided to go for a brand new vehicle instead.
"Bristol Airport is a pleasure to do business with and the electric vans are perfect for in and around the airport as the mileage around the site is minimal, which means they only require charging a couple of times per week."
The Nissan e-NV200 combines the NV200 – a former International Van of the Year – with the proven technology of the record breaking Nissan LEAF, the world's bestselling electric car.
Martin Fisher, Motor Transport Manager at Bristol Airport, said: "Sustainability is a key focus for us and we are always looking to explore technology which can help us reduce our impact on the local environment."
Bristol Airport will charge its vans by using an electric charging socket installed in front of the Airport's Administration Building.
Kate added: "We have worked hard over the past 12 months implementing electric vehicles into local businesses that surround us here in Bristol and it's a pleasure to be working with big organisations such as the Airport, City of Bristol College, Bristol City Council and the BRI as well as smaller businesses in the area."