University students are creating a collection of Automotive Steampunk costumes inspired by iconic vehicles in the National Motor Museum at Beaulieu.
The stunning costumes, which have taken their style tips from some of the museum's earliest motoring vehicles, will be put on show alongside them throughout the summer from June 17th – September 21st. *
The costumes have been created by 16 students from the Costume and Performance Design course at Arts University Bournemouth, who were invited to be part of the National Motor Museum Trust's two-year Keep CALM and STEAM Ahead project. The project, which has been supported by the Arts Council England Designation Development Fund, has presented a unique opportunity to research and catalogue technical material held in the Motoring Reference Library and Object Collection and develop a range of fun creative educational activities to explore magical mechanisms.
As well as having a guided tour of the museum, the students have had access to the Motoring Reference Library to research and draw on the rich source of mechanical and motoring design history for their creations. Nine costumes are being designed and made to sit alongside the museum's vehicles.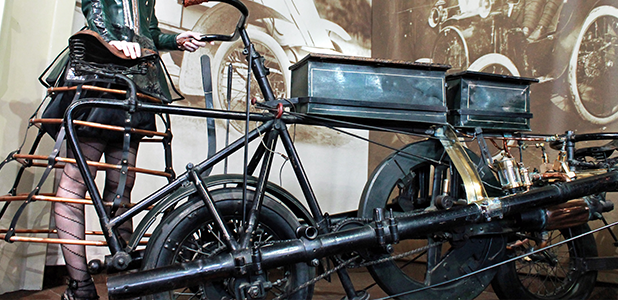 The chosen vehicles they reflect include the eye-catching Gobron Brillie Fire Engine, with a costume which nods towards a fireman's traditional breathing apparatus and uses LED lights in the skirt to resemble fire and smoke. Other vehicles include the Columbia Electric carriage, an early electric vehicle used by Queen Alexandra to drive around the grounds of Sandringham House, the early Grenville Steam Carriage and the Pennington Autocar of 1896, which is the only existing example of its kind in the world. Details such as the Autocar's wheel spokes have been incorporated into a hat, as part of the student's costume design.
The Automotive Steampunk exhibits will be on show in time for Beaulieu's Hot Rod & Custom Drive-In Day on June 18th, which celebrates amazing customized cars and bikes against the backdrop of Vintage Village nostalgic fashions and entertainment for the family.
The Automotive Steampunk exhibits can be seen as part of general admission to the Beaulieu attraction, which includes entry to the National Motor Museum with its collection of more than 250 vehicles, the World of Top Gear, On Screen Cars, 13th century Beaulieu Abbey, Palace House and its stunning grounds and gardens. Tickets can be bought in advance online. For prices or more information see www.beaulieu.co.uk or call 01590 612345.