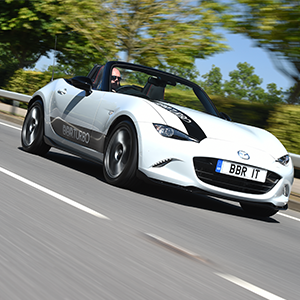 Renowned Mazda tuning specialist BBR is proud to announce the launch of its latest development, an all-new 'Stage 1' turbocharger upgrade package for the 2.0-litre Mazda MX-5 / Miata ND MY 2015 onwards models that increases power to a stunning 248 bhp at 7150 rpm, allied to an impressive 236 lb.ft of torque at just 3250 rpm.
Cleverly designed to install without intrusive mechanical alterations onto the 1998cc SKYACTIV-G engine, the BBR Stage 1 turbocharger upgrade is specified to enhance driveability as well as outright power. Post conversion over 200 lb.ft of torque is available between 2750 rpm and 6500 rpm, highlighting the upgrade's user-friendly nature, irrespective of road or track conditions.
Initial performance testing with the turbocharger upgrade indicates a 0-60 mph time slashed from 7.3 seconds to a scorching 5.0, enabling the BBR Stage 1 equipped Mazda MX-5 to humble much more expensive machinery, a consequence of its impressive 233 bhp per ton power to weight ratio. Top speed is electronically limited to 155 mph.
Background:
BBR has extensive experience of turbocharging MX-5 engines since the late 1980's and this latest development completes its portfolio of turbo upgrades for four generations of Mazda's iconic sportscar. However, the marque specialist called upon all of its in-house engineering expertise to develop a forced induction package for the SKYACTIV-G engine, a process that began back in 2014, with early development conducted on a Mazda 3 test vehicle.
The end results of nearly three year's work is an extensively developed 'Stage 1' turbocharger upgrade that is straightforward to install, retains a factory style underbonnet appearance and is fully reversible, yet delivers on BBR's objectives of producing stunning performance, driveability and reliability, combined with emissions compliance for key sales regions.
One of the key elements of the Stage 1 turbo upgrade is the adoption of a twin-scroll turbocharger, an innovation that was selected after all other options were considered and rejected. BBR's Neil Mckay explains – 'Very early on during development it became clear that use of a supercharger, with its high parasitic losses, would work against the Mazda SKYACTIV-G engine's ultra-efficient ethos. Significant boost levels would be required to deliver considerable power gains with a supercharger, which would be incompatible with the SKYACTIV-G engine's high compression ratio,' he continues.
An additional complication, which greatly influenced BBR's turbocharger selection criteria, is that this latest 1998cc Mazda powerplant features a specifically developed 4-2-1 manifold designed to exploit exhaust scavenging technology. Mazda adopted this technology for the SKYACTIV-G engine to overcome the marginal exhaust restriction of a catalyst close to the cylinder head.
As a consequence, single scroll turbochargers were assessed by BBR but dismissed because their design creates excessive back pressure and inherently lacks any form of exhaust scavenging potential. 'Therefore, having rejected all other forced induction methods, our extensive dyno and road testing has proven that our choice of a low back pressure twin-scroll turbocharger, with its enhanced exhaust scavenging ability, is the optimal solution. It works harmoniously with the original SKYACTIV-G layout and knock-resistant technologies, as is evident by the impressive power figures achieved at very modest boost pressures,' Mckay comments.
The twin-scroll unit that BBR has elected to utilise features a bespoke latest generation billet compressor wheel and lightweight, low inertia turbine in a compact internally wastegated assembly. The resulting turbocharger is a highly efficient and responsive forced induction solution, yet retains a large boost upgrade margin for later power stages.
BBR Stage One package technical details:
In detail, this exclusive TSX30-71R twin-scroll turbocharger mounts onto a bespoke BBR designed cast-iron twin-scroll manifold, whilst air charge temperatures are controlled by a front-mounted air to air intercooler, which is easily installed without bodywork alterations.
Similarly, the boost hoses and replacement battery tray are all finished in a factory style black and a high-flow K&N induction system is discretely positioned as befits BBR's target client base of brand new and nearly new Mazda MX-5 ND owners.
Electronically the Stage 1 turbo upgrade equipped car benefits from BBR's renowned Starchip / EcuTek RaceRom ECU software package, which includes revised fuel, ignition and boost calibration designed to optimise driveability and performance across the rev range, whilst retaining all Mazda's OEM fail safes. 'On the Stage 1 conversion boost is set a conservative 7 psi, which is well within the limits of both the BBR turbocharger and the SKYACTIV-G engine,' says BBR's Neil Mckay. 'With internal upgrades to the Mazda engine we know that considerable more power is available – the BBR technical team is already developing future stages to exploit this.'
BBR Stage One package pricing details:
Available now, the Mazda MX-5 ND Stage 1 turbo package is priced at £4995.00 including 'drive in, drive out' installation at BBR's Brackley premises by its qualified technicians and dyno power graph (A DIY version, including all hardware and software is also available priced at £4395.00).