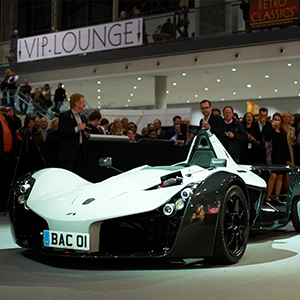 Briggs Automotive Company (BAC) has stolen the show at the Japanese Society of Automotive Engineers (JSAE) Congress 2017, with its world-famous Mono supercar hogging the limelight in Yokohama.
The world's only single-seater, road-legal supercar has captured the hearts of petrolheads around the world for offering the purest driving experience bar none, and it hit the JSAE stand showing off its remarkable technological advancements.
With the Mono, BAC has achieved several world-firsts and broken new technological ground, and it truly wowed JSAE Congress attendees and fellow exhibitors with its revolutionary carbon-ceramic brakes and hybrid carbon-composite wheels.
The wheels, designed by the BAC team with Co-Founder and Design Director Ian Briggs at the helm, were made in collaboration with British performance wheel manufacturer, Dymag.
As well as revolutionising the look of the BAC Mono, the new wheels bring weight and performance improvements by lowering the rotational weight. They've created a real buzz around the world with Mono owners and enthusiasts, with JSAE the latest to be in awe.
BAC's ground-breaking carbon-ceramic brakes also caused a stir at the Congress, as the BAC team talked visitors through how they provide superior braking performance and durability for road and track use.
The carbon-ceramic brake kit saves 2.5kg per corner over the standard set-up, while the unique champagne-anodised bells complete the look.
Both innovations were exhibited alongside the Niche Vehicle Network and the Department for Business, Energy and Industrial Strategy (BEIS) on the UK pavilion alongside fellow British innovators.
However, thanks to the remarkable look and advancements of the Mono, BAC completely stole the show and won endless new admirers and supporters during its time in Yokohama.
BAC Co-Founder and Design Director, Ian Briggs, said: "We enjoyed a fantastic experience at the JSAE Congress this year and really enjoyed being able to show the world exactly what we can do. The Mono is loved all over the world not only for its pace and phenomenal ability on the road and track, but also for its amazing innovations and technical spec. We're very proud to have brought carbon-ceramic brakes and hybrid carbon-composite wheels to the world for the first time and we look forward to returning to the JSAE Congress in 2018 with more to show the world."