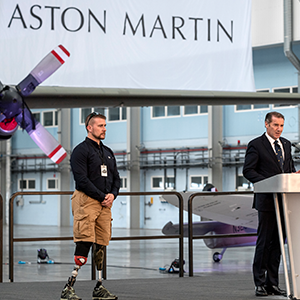 Aston Martin Lagonda Ltd are proud to announce an enduring partnership with the Royal Air Force Benevolent Fund, the RAF's leading welfare charity. The strong links between the company and the Royal Air Force are clear, with Aston Martin's two manufacturing facilities both having previously been RAF airfields.
The RAF Benevolent Fund has been the Royal Air Forces' leading welfare charity for almost 100 years, providing financial and practical assistance to anyone who is serving, or has served in the RAF including their partners and dependents.
They provide assistance with a range of issues from childcare and relationship difficulties to injury and disability, and from financial hardship and debt to illness and bereavement. In 2016 the charity spent over £20 million supporting over 60,000 members of the RAF family.
Andy Palmer, President and CEO of Aston Martin, said: "We are extremely proud to be working closely with our partners the RAF Benevolent Fund in helping to support members of the RAF and their families."
Mike Neville, Director of Fundraising at the RAF Benevolent Fund said: "On behalf of the Royal Air Force Benevolent Fund may I say how delighted we are to be Aston Martin Lagonda's chosen charity partner.  I think a very fitting partnership it is too as Aston Martin seem to have a knack of taking on the Royal Air Force's heritage – first RAF Gaydon and now RAF St Athan. We at the RAF Benevolent Fund see ourselves as responsible for looking after the Royal Air Force's human heritage – those who have served and those who are serving today often in far flung corners of the world. I offer my most sincere and heartfelt thanks to Andy Palmer and all of the Aston Martin Lagonda team – we cannot do what we need to do without you."
Check out the charity here