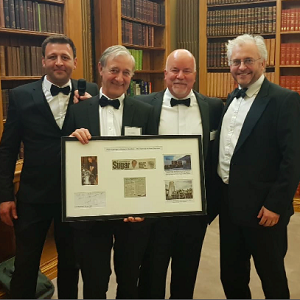 A dinner held at the Royal Society to celebrate inventor of the Dearman engine, Peter Dearman, was surprised with a message from Lord Alan Sugar.
In November 2001, Peter Dearman had written to then-Sir Alan, saying he had invented an engine that could run on air, produced no pollution, and was cheap to manufacture.
Sir Alan's reply, published in the Daily Mirror, asked Peter to contact engineers and said "if you are trying to pull the wool over their eyes, forget it, as any credible organisation will just have a good laugh".
The engine invented in a garage in Bishop's Stortford has now grown into a south London-based company employing 70 people.
The Dearman Engine Company's liquid nitrogen-powered transport refrigeration units, which are zero emission, have displaced diesels in the fleets of Sainsbury's, Unilever and Marks & Spencer.
The dinner saw Peter Dearman presented with a frame of Lord Sugar's original message, alongside a new message he had signed ahead of the dinner, saying "Well done Peter, you finally got there!"
The event was opened by Dearman's Member of Parliament, Rt Hon. Tom Brake MP, who led a Q&A with Peter about how his invention came about and what it has now become.
It was attended by high profile sector leaders including Ian Constance, Chief Executive of the Advanced Propulsion Centre, as well as individuals from the Environmental Industries Commission, the Department for International Trade, Hubbard Products, and Marks & Spencer.
Commenting, Dearman CEO Scott Mac Meekin said:
"This was a long overdue celebration of Peter Dearman, and we are finally seeing the incredible potential of the engine he invented in his garage in Bishop's Stortford. A huge thanks to Lord Alan Sugar for being a good sport and sending a surprise message for Peter. Framing it alongside his original reply from 17 years ago shows how far the Dearman engine has come, to now have a company of 70 people working on it.
 "We were also delighted to have our Member of Parliament, Tom Brake, open the event. And having major industry players attend the dinner, in the grand surroundings of the Royal Society, just shows the high regard that Peter Dearman is rightly held in."