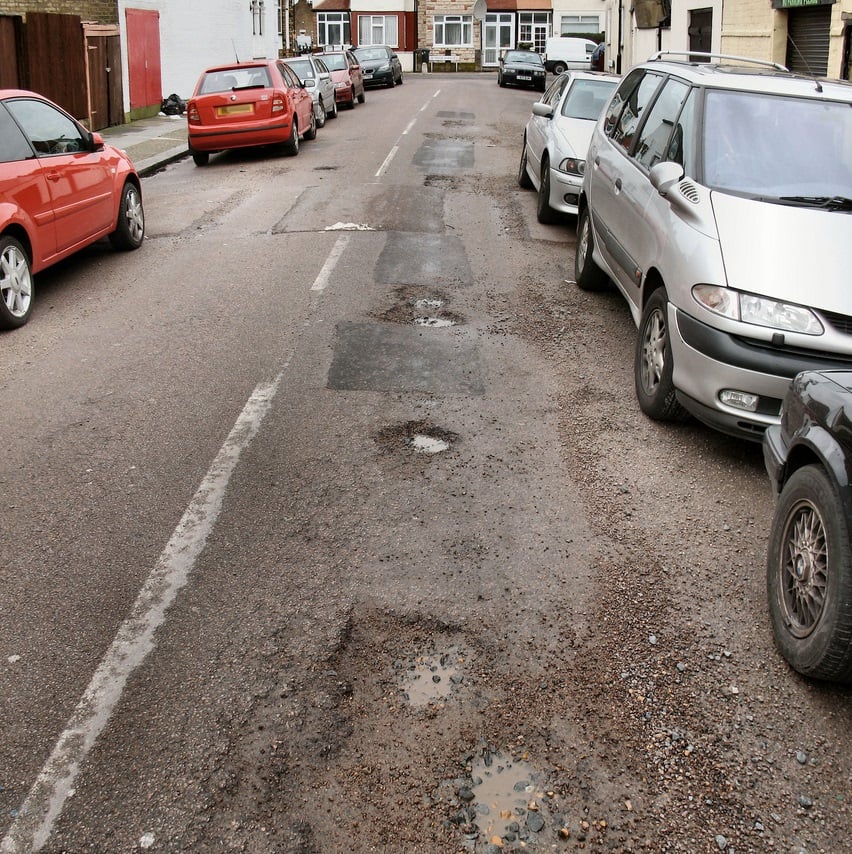 Wow
In her debut post for FleetPoint, Natalie Rew from AllStar Fuel Card looks at the increasing costs of potholes on fleets
Potholes are the bane of every British motorist and they seem to have a mushrooming effect on roads – just as one is filled in by the authorities, others crop up elsewhere. Although hard winters and stringent local budgets are deemed to be the culprits, even with the last two winters being relatively mild, the situation hasn't improved.
An analysis of RAC breakdowns reveals that Britain's roads are not as good as they ought to be, and this is evident in the sharp increase in suspension spring faults, traditionally regarded as a good indicator of the quality of road surfaces. This situation is typically being seen across the country. Warranty Direct estimates that pothole-related repairs cost UK drivers over £730 million, a 159 percent rise in three years
Fleet operators have been tearing their hair trying to repair broken suspension springs, damaged tyres, wheels and non-functional shock absorbers. In fact, they claim to have paid out more than £215 million on vehicle repairs over the past year as a result of potholes and poorly maintained roads. In fact, Halfords Auto centres reports that 1.5m vehicles suffered on account of potholes, seeing steering alignments, suspension systems, anti-roll bars and shock absorbers come to grief.
As if that were not enough, the design of modern vehicles make it even more expensive for fleet operators. Modern alloy wheels and high performance tyres cost a lot and even minor damages can result in a bill of around £500.
Aside from vehicle damage, the potential for collisions (while evading a pothole) has increased and scraped bumpers and damaged headlights have become a common feature.
Thus, the cost of such damage to fleets extends beyond mere repairs; the commercial impact of having the vehicle off the road is significant. It is estimated that one driver encounters a pothole every 30 seconds – leaving fleet companies facing an average bill of £147 to get their cars back on the road.
According to the Annual Local Authority Road Maintenance (ALARM) Survey 2015, it has paid £23m in road user compensation claims in England, London and Wales, not to mention claims that never surface. In most cases, the cost of repairs is usually borne by the fleet companies and their insurers, as the procedure for making a claim to the local authorities is laborious, time-consuming and riddled with complications. More importantly, given the local guidelines, the chances of the claim succeeding, are slim.
With English local authorities "bemoaning a £829 million shortfall in their annual budgets" and claiming that it will cost more than £10.5 billion to fix all the country's potholes, is there any hope for Fleet operators?
There does seem to be hope on the horizon: cold asphalt solutions, touted to be a permanent fix for the potholes that dot Britain's roads, has proven to be a success across "a wide range of extreme conditions — from the Canadian Yukon to the Australian bush."
In addition, a new invention called the 'Dalek' (used in America) is stated to be capable of filling potholes in less than two minutes, much faster than the usual hour. This is currently being trialed in Bedfordshire. Moreover, news of a self-healing concrete that has been produced at Bath, Cardiff and Cambridge and other universities, offer a new way of avoiding repairs for roads.
The Kent County Council appears to have set up a best practice of 'Find and Fix ' potholes, wherein highway teams identify and fill in potholes and protect the fixes to ensure that they are durable. But until these new technologies become mainstream and authorities decide to 'fix them right at the first attempt,' fleet operators are left with no option but to continue suffering damage to their vehicles.
Until such time, if you do hit a big pothole, check your alignment immediately as it can accelerate tyre wear, also check your tyres for impact breaks or cuts and replace them if need be. And then hope for the best!
Natalie Rew is Marketing Executive at AllStar Fuel Cards, one of the UK's leading fuel card providers