New green number plates are rolled out from today (8th December) for zero-emission vehicles and could influence almost one in five to switch to an EV, according to research from the AA.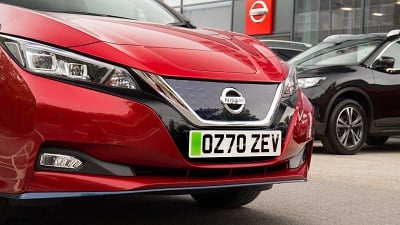 As part of the government's plans to achieve net zero emissions by 2050, drivers will be encouraged to make the switch to electric vehicles through the introduction of green number plates. The plates will make it easier for cars to be identified as zero emission vehicles, helping local authorities design and put in place new policies to incentivise people to own and drive them.
Drivers could benefit from local initiatives such as cheaper parking and cost-free entry into zero-emission zones where those with a green number plate will be recognised as eligible.
The plates will be identifiable by a green flash on the left-hand side and will be available for zero emission vehicles only.
Edmund King OBE, AA president, said: "Most people choose an EV because they are great to drive, better for the environment and have lower running costs. However, almost one in five say the introduction of green number plates may influence them to switch to an EV so it is a move that we welcome.
"To achieve government targets on zero emissions we need to encourage more drivers to switch and almost half of AA members say they will consider an EV when they next change their car.
"I first drove an EV in 2001 and they have come on in leaps and bounds since then. Today I pleased to be one of the first to get a green plate on my EV."
Eligibility
Only vehicles with zero tailpipe emissions (e.g. fully battery electric, or hydrogen fuel cell) will have the option of displaying the plates. Hybrids and plug-in hybrids (including range extenders) are not eligible. This applies to all vehicle types – cars, vans, taxis, motorbikes; and buses, coaches and HGVs.
Support
 In an AA survey of 19,350 drivers conducted in April 2019, 37% of respondents agreed that newly registered BEVs should be fitted with green number plates to differentiate them from normal petrol/diesel vehicles. Some 40% didn't know or had no opinion.
 Non-mandatory
Green number plates should be supplied with new eligible vehicles, unless the customer does not want them. Vehicle retailers and dealers should therefore implement a process that provides for this.
Front plate
Rear plate
Motorcycle plate with GB
For existing eligible vehicles, the vehicle keeper can approach a Registered Number Plate Supplier with original documents to prove their name and address and show they're allowed to use the registration number on their vehicle, to purchase a new set of plates.
When will drivers switch? **
Almost half of drivers (49%) in an AA survey in October said they would consider buying an electric car when the next changed their car. This was an 2% increase compared to February 2020.
Younger respondents were most likely to consider buying an electric car (18-24's 58%, 25-34s 60% and 35-44s 59%). Londoners were the most likely region (60%) to consider buying an electric car. Women were also slightly more likely to consider an electric car (51%) than men (49%), as were wealthier respondents (ABs, 57%).
Of those who would not consider buying an electric vehicle almost two thirds (64%) said they are too expensive, followed by the worry of battery range (62%) and not having enough charging points available (61%). Half of members (50%) who would not consider an electric car worry about the re-sale value.
Ashley Barnett, head of consultancy at Lex Autolease, said: "It's an exciting time for the electric vehicle market with over 85,000 battery electric vehicles already registered this year, clearly showing that sustainability remains high on the agenda despite the challenges of coronavirus. Today's introduction of green number plates to identify zero-emission vehicles on the UK's roads will boost driver advocacy even further and will go a long way to keep up the momentum behind the Government's Road to Zero strategy.
"The deadline to achieve net-zero emissions by 2050 looms ever closer, so anything that simply and clearly communicates the benefits of electric vehicle adoption – from better parking spaces to accessing emissions-restricted zones – to a wider audience is a welcome shot in the arm."
Andrew Humberstone, managing director of Nissan Motor GB, said: "The age of the electric vehicle is now approaching rapidly and these new green registration plates will soon be a common sight on our roads.
"Zero emission electric vehicles unlock incredible benefits for everyone, but while many people know about the environmental benefits, many car buyers still don't realise they could also save significant sums buying and running an electric car."
---
* Populus (now Yonder) received 17,633 responses from AA members to its on-line poll conducted in December 2019
** Yonder received 16,201 responses from AA members to its online poll between 13th – 19th October 2020. Yonder is a member of the British Polling Council and abides by its rules. For more details, please go to www.yonderconsulting.com.