Laws that will eventually ban all petrol and diesel cars are beginning to be introduced around the globe; in turn forcing automotive giants to turn their attention to hybrid and fully electric vehicles.
Fully electric vehicles may well be the future of low-emission transportation, but for now, hybrid cars are proving an increasingly popular compromise. Dual-energy cars are continuing to grow in popularity and if you're not quite ready to dive straight into a fully electric vehicle, then a hybrid or plug-in car could be exactly what you are looking for.
Recent research by Yougov.co.uk found that nearly three quarters of Brits (74%) claim the initial cost of an electric or hybrid vehicle deters them from purchasing. And more than half (52%) stated that the expense of charging the vehicle is another turn off.
Determined to find out which vehicles are the cheapest to charge, private plates company  Click4reg.co.uk collated data for current hybrid vehicles available using Zap-Map's 'Public Charging Calculator' tool and analysed which cars cost the least to power-up at public charge points*.
Click4reg discovered that the least expensive car to charge is the BMW i8 costing £1.25 to add 59 miles. The i8 also has the fastest charging time of 1.4 hours at 3kW public charging points.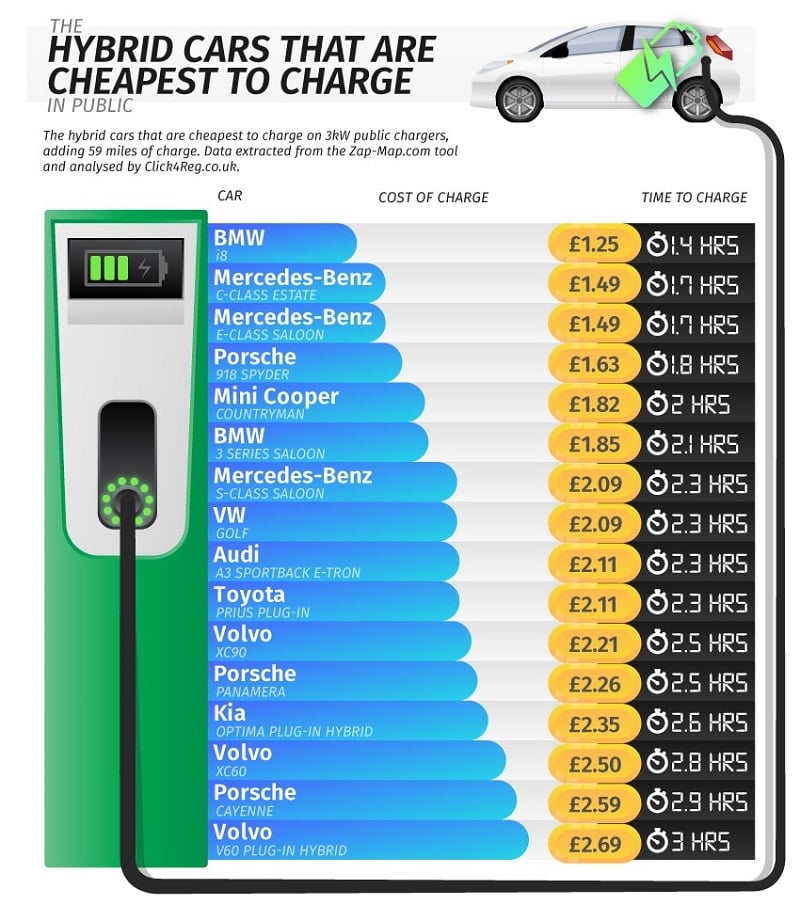 Thereafter, both the Mercedes-Benz C-Class Estate and the E-Class Saloon cost £1.49 to 'refuel' and around 1.7 hours to charge the maximum of 59 miles.
Most interestingly, the most expensive vehicle in value ranks the third cheapest to charge. The Porsche 918 Spyder, at nearly £650,000 for a used model, costs a mere £1.63 (1.8 hours to charge).
Following suit, the Mini Cooper Countryman costs £1.82 (2 hours), whilst  the BMW 3 Series Saloon follows thereafter at £1.85 (2.1 hours).
Click4reg.co.uk can also reveal notable dual-energy cars that ranked among the cheapest vehicles to 're-juice' at public charging points:
The VW Golf at £2.09 (2.3 hours), the Toyota Prius Plug-In at £2.11 (2.3 hours) and the Kia Optima Plug-In Hybrid at £2.35 (2.6 hours).
Unsurprisingly, fully electric vehicles are more expensive to charge with the likes of Tesla costing between £13-18 per charge depending on the model. Whilst the Hyundai KONA Electric is estimated to cost  £9.41 for an effective charge and takes a whopping 10.5 hours.
However, Click4reg discovered that the following fully electric vehicles all cost under £5 to charge at 3kW public charging points (albeit longer charging times than hybrid vehicles):
| | | |
| --- | --- | --- |
| Car | Cost of Charge | Charging Time |
| Mitsubishi i-MiEV | £3.84 | 4.3 hrs |
| Peugeot iOn | £3.84 | 4.3 hrs |
| Smart fortwo coupe | £4.22 | 4.7 hrs |
| VW e-UP! | £4.49 | 5 hrs |
| BMW i3 | £4.51 | 5 hrs |
*The data represents used hybrid and electric cars charged at 3kW public charging points, with the total cost equating to how much it would cost to add 59 miles to each vehicle. Currently used hybrid and electric vehicles at 3kW charging points can only add 59 miles.