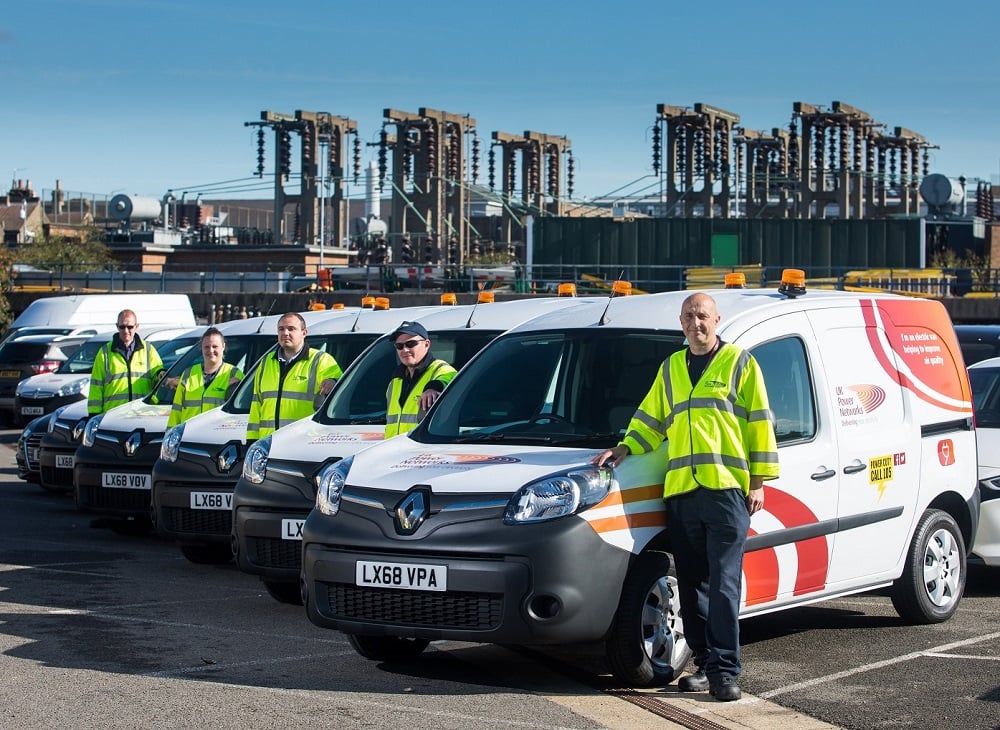 Britain's biggest electricity distributor UK Power Networks is trialling eight electric Renault Kangoo vans in its fleet, to help improve air quality for future generations and further reduce its carbon footprint.
Engineers use the electric vans from depots in Brixton, Camden, Canning Town and Falconwood, to help keep the electricity network running for homes, businesses, schools, hospitals and EV charge points across London. See a video about the new EVs: https://youtu.be/HZtwYTWS4Kk
Trainee engineer Freda Robinson from Tottenham was among the first to drive one of the new electric vans around central London, and today, a month on, she reflects on what a difference it has made to her working day.
Role
I'm a trainee engineer at UK Power Networks, currently in the second year of my Ordinary National Certificate (ONC) in electrical engineering. After that I will have the option to go onto the Higher National Certificate (HNC) to become an engineer.
When I first started work it was in a bank and I never dreamt of becoming an engineer. I worked for a couple of contractors in the utility industry and built up contacts with the field staff, so when there was an opening for a trainee engineer I went for it.
Main depot / office base?
I bought a bike in the summer through the Cycle to Work scheme and in better weather I cycle from home in south Tottenham to the depot in Pratt Street, Camden, where I now collect my Electric Vehicle (EV) to carry out my site visits.
What does your average day involve?
In the morning I go to the depot and take care of any paperwork. By around 10am I'm out on the road doing surveys for small service electricity connections and variations. I complete about three surveys per day and use the EV between 10am and 3pm. I cover a large part of central London, including the WC and NW postcodes.
What's it like to drive the electric van?
The best thing about driving my new electric van is that it is so good for the environment and easy to drive. If I'm stuck in traffic, then I'm not changing in and out of gears and managing clutch control. It's really lovely and perfect for driving round central London.
Obviously without an engine the van is quiet too and for me that has a calming effect. It's nice. Even though people can't hear the vehicle it's brightly coloured and people notice it on the road. It's also very responsive when you need acceleration.
 The main difference I have noticed is that I'm not permanently looking at the petrol gauge. The battery range is excellent – over 100 miles and I would never cover that in one day. Typically I drive about 20 miles per day in London and rarely more than 30 miles. I don't have to worry about it and don't need to charge the van every day. The longest I have driven the van without charging it is three days, but it still doesn't go down to a quarter full.
What are your thoughts on air pollution and the role EVs could play in reducing it?
It's important that we all start trying to do something about air pollution. When I was growing up people never addressed these issues, nobody was trying to make the air cleaner. Now the health effects of pollution are widely recognised and people talk about it in day-to-day conversations. It's a nice thought that by the time I may have children of my own, everybody will be more conscious of the vehicle they are using and its impact on the environment.
How easy and convenient is it to charge the van?
Charging the van is easy. We have specific bays at the depot where we can park alongside the charging point.
Now you drive an EV for your work, would you think about having one at home?
Definitely. I was talking to the other EV drivers and we agreed it would be good to own an electric vehicle. As demand increases I hope costs will come down and then I'll look at it