Octopus Energy has reached a deal with Peugeot to use its e-Expert electric vans across London.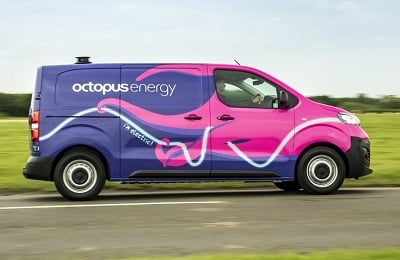 The deal will see Octopus use 23 of the Peugeot cans to install EV charging points across the capital.
"We're delighted that Octopus Energy has chosen Peugeot's full electric e-Expert van as the latest vehicle to join its fleet," says Julie David, MD of Peugeot UK. "Octopus is doing a great job supporting Britain's transition over to electrification with the work installing charge points across the capital. With a range of up to 205 miles and a maximum payload of up to a ton, the PEUGEOT e-Expert is a fantastic choice for businesses looking to operate practically and sustainably."
"As a green energy provider, we are focused on driving the renewable energy revolution globally," says John Szymik, CEO of Octopus Energy Services. "We don't just mean in the energy industry either, with transport being the UK's largest emitting sector it's high time we put the brakes on unnecessary internal combustion cars on the road. Our 23 new Peugeot e-Expert vans ensure we are firmly in the driving seat as we begin decarbonising our whole engineering fleet. With our new vehicles, we'll be able to install the next generation of clean energy products including heat pumps, electric vehicle chargers and smart meters. Helping improve air quality in cities across the UK and reducing the country's emission as a whole."
The vans also come with Peugeot's FREE2MOVE Connect Fleet telematics service, which allows drivers to stay connected to their vehicle, closely monitoring details such as mileage, fuel consumption and mechanical system.
At present, there's no comment on when the Octopus Energy chargers will be ready to use in London. Here's hoping it's sooner rather than later.