Electric truck development in America has just received a major financial boost.
Electric truck specialist Motiv Power Systems said it has raised $60 million in new investment as it enters its second decade.
Colorado-based GMAG Holdings Inc. led the Series B funding round. Recreational vehicle giant Winnebago Industries is the second major participant.
The new funding leaves Motiv "debt-free with a strong balance sheet," Matt O'Leary, chief executive of the Foster City, Calif., company, told Trucks.com.
Previously, Motiv had raised about $7 million in investment funding and $20 million in various electric truck development grants, mainly from California air quality regulators.
Winnebago and GMAG, a privately held investment firm, invested in Motiv's initial financing efforts as well.
A 'CRITICAL ASSET'
The 10-year-old developer of electric drive systems for medium-duty trucks is on the cusp of transitioning from pilot projects to sales. It is focusing on the broad commercial market for Class 4 through 7 electric trucks, O'Leary said. The former Ford Trucks executive took the reins at Motiv early this year.
Its efforts are "a critical asset" in the trucking industry's move into electric power, clean trucks specialist Bill Van Amburg told Trucks.com earlier this year. Van Amburg is executive vice president of Pasadena-based Calstart, a non-profit clean transportation technologies consulting firm.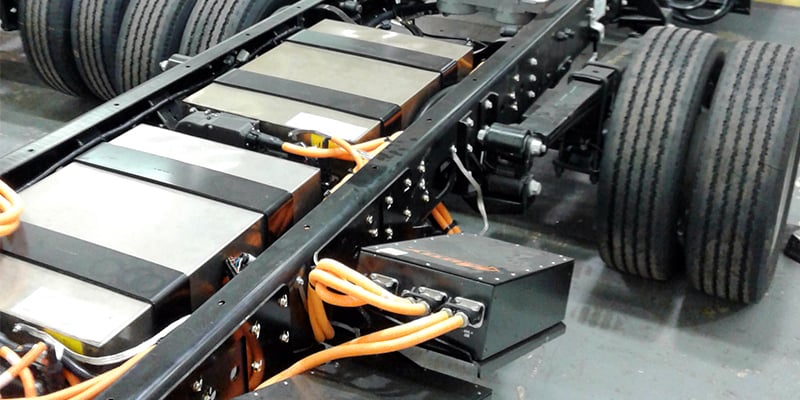 Motiv develops and builds control systems and integrates them with outside vendors' battery packs and electric motors.
The complete electric drive system is then integrated into a truck chassis by commercial assembly contractors.
GROWTH COMING
Motiv recently inked a deal to have its systems installed in Ford medium-duty chassis alongside Ford's standard internal combustion chassis. The assembly plant is operated for Ford by Detroit Chassis.
Ford is a major supplier of medium-duty chassis to the commercial truck market. Motiv's systems are designed primarily for Ford E- and F-Series medium-duty chassis. The company has said it plans to use other truck builders' chassis as well.
Motive presently concentrates on Class 4 and 5 trucks. It expects to expand into Class 6 and 7 trucks as demand for alternatives to diesel powertrains increases amid political pressure to cut toxic emissions.
"I believe the inflection point is here," O'Leary said.
Growth in electric truck sales will help drive down component costs and hasten the time when zero-emission trucks are no costlier than diesel for fleets to purchase, he said.  
ELECTRIC SAVINGS
Boosters claim that fuel and maintenance savings over an electric truck's operating life can save operators tens of thousands of dollars compared to diesel vehicles. But the trucks today can cost 30 percent more to purchase. Motiv said its trucks could earn that back in fuel and maintenance savings in two years.
To date, about 100 Motiv-powered trucks are on the road. They have driven a collective 750,000 miles of real-world driving, O'Leary said.
Customers include the AmeriPride division of Aramark Corp., Winnebago's specialty vehicles division, baked goods giant Bimbo Bakeries USA, the U.S. Postal Service and several shuttle bus builders.
"We have a new mix going forward, some still pilot programs but some long-term contracts and large first-time orders," O'Leary said. "We have a number of major fleet customer announcements coming."