As the UK prepares to host the important COP26 climate change conference in Glasgow, the Mayor of London Sadiq Khan has announced that all new buses ordered by Transport for London (TfL) for the capital will now be zero-emission, building on its recent achievement of making its entire bus fleet compliant with strict Euro VI emission standards – the same standards as the Ultra Low Emission Zone.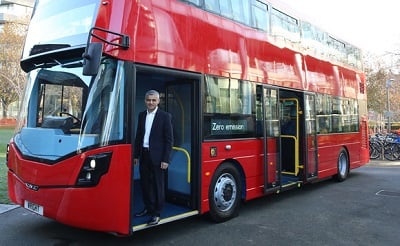 The increased use of public transport is already a fundamental part of tackling the twin emergencies of toxic air pollution and climate change, but it can play an even bigger role in helping London reach the zero-emission, zero carbon future necessary to protect the health of Londoners and the environment. One of the major things that TfL can do to decarbonise its services is to remove diesel and continue to make the network zero-emission. Making buses zero-emission will save four million tonnes of carbon by 2037, and moving the date forward to 2030 will save an additional one million tonnes
TfL has already significantly invested in the zero-emission bus industry, with 950 zero-emission buses on the road or on order. With the market now more mature and expanding in the UK, TfL can guarantee that it will only purchase new zero-emission buses, so that a fully zero-emission bus network can be delivered three years earlier in 2034. However, the UK Government is aiming to reduce carbon emissions by 68 per cent by 2030. With Government support, TfL can bring London's bus fleet into the scope of delivering on that target and achieve a fully zero-emission fleet by 2030.
The crucial announcement comes as the Mayor hosts the Zero-emission Bus Summit. The summit, organised by the Campaign for Better Transport and TfL, will see representatives from central and local government, bus operators, manufacturers and wider stakeholders meet today (Friday 17 September) at City Hall to drive forward the uptake of zero-emission buses across the UK. This work is fundamental to achieving the Government's decarbonisation aim and improving air quality and protecting people's health across the country. It is also a great demonstration of how tackling the climate crisis and growing our economy across the UK is about regions working together and investing in new technologies.
Making London's large bus fleet zero-emission will give British bus manufacturers confidence in large orders enabling them to significantly ramp up production. This will allow local UK authorities to progress towards zero-emission targets that would not be possible otherwise. The acceleration of London's shift to zero-emission is bringing down costs and enhancing products for the entire country, and with committed funding from the DfT, TfL can ensure that the Government's commitment to 4,000 zero-emission buses can be achieved faster.
With London making up a third to half of all new bus orders in the UK in any given year, increasing the number of these buses in the capital is also supporting 3,000 jobs across the UK, such as at the Alexander Dennis (ADL) factories in Scarborough and Falkirk, Switch Mobility near Leeds and Wrightbus in Ballymena, Northern Ireland.
The Mayor of London, Sadiq Khan, said: "In the year of COP26 and after setting out my ambition for London to be net zero by 2030, I'm committed to do all I can to help clean up the transport network and reduce its emissions.
"London's toxic air is a shameful health crisis which is causing premature deaths and stunting the growth of children's lungs. Today, as part of our work to tackle both the harmful emissions we breathe and the climate emergency, I am proud to announce that London will no longer procure new diesel or hybrid buses and will only procure zero-emission buses.
"Today's announcement builds on the progress we've already made tackling toxic air pollution. I've worked hard to ensure TfL's entire bus fleet across now meets the ULEZ standards, this includes 550 zero-emission buses. We need to act now and accelerate the transition to a greener future, with cleaner air for all."
Louise Cheeseman, TfL's Director of Buses, said: "The world has woken up to the desperate need to make big changes to tackle the climate emergency, and the single biggest thing we can do is to move to a zero-emission bus network as soon as possible.
"We've done everything possible to make the bus network clean and now we are focussed on making it green, which is why it's so important that we're able to commit that all new buses in London will be zero-emission. We're now working to have a completely zero-emission bus network as soon as possible, and with Government support we could do this by 2030 while also stimulating the bus market.
"Every town, city and region has a part to play in reducing the country's carbon emissions and addressing climate change. The Zero-emission Bus Summit is bringing together all the key players in the bus industry, local and national government and other stakeholders to share best practice and turbo-charge the movement to zero-emission nationally."
Norman Baker, from Campaign for Better Transport which is chairing the Bus Summit, said: "Buses are already one of the most environmentally friendly ways to travel and this announcement will make them even greener, further reducing carbon emissions and air pollution. But there needs to be more support from central government in the form of additional funding, building local authorities' capabilities, speeding up the roll out of charging infrastructure and encouraging more people to choose the bus."
Road traffic, including cars and vans as well as buses, is the single biggest source of air pollution in the capital and accounts for around half of all emissions of harmful nitrogen oxides (NOx) and particulate matter (PM). Transport also produces one quarter of London's carbon emissions. TfL's bus fleet has led the way to make its existing diesel buses as clean as possible, but TfL is keen to go further by moving to green electric and hydrogen to eradicate harmful air pollutants and carbon dioxide from the propulsion systems.
Paul Davies, President & Managing Director, Alexander Dennis Limited: "Transport for London's accelerated investment in zero-emission buses is great news for the environment and the people of London as much as for the communities and businesses across the UK where these buses will be designed and manufactured, not only helping to underpin skilled jobs and apprenticeships but providing the strong foundation that the UK bus industry needs to prosper both domestically and internationally. The UK Government has the opportunity to further strengthen Britain's bus manufacturing industry and its world-class expertise in clean bus technology by enabling an even faster transition through additional funding for London."
Ben Fletcher, Associate Director of EV, Moixa "TFL's commitment to only ordering zero-emission buses to ensure that ten percent of London's bus network will be zero-emission by the end of next year adds momentum to the UK's net-zero goals. This commitment to adopt only zero-emission buses needs to go beyond London and extend to the UK as a whole.
"However, a fully electric bus fleet does come with its own challenges. Only through collaboration between policy makers and private businesses can this feat be achieved, as large investments and improvements to the UK's charging infrastructure are needed to allow for accessible and reliable charging. Intelligent EV charging is essential to the growth of fully electric fleets to help reduce the stress on the grid. By making smart batteries work harder through AI and machine learning, electric fleets can optimise power distribution through the grid while maximising the value of energy. By integrating with system operators and aggregators' APIs, batteries can automatically deliver the flexibility services when required. As a result, battery behaviour can now be modified to make it possible for the grid to rely on batteries to store this surplus clean energy, allowing it to be stored until it is needed, rather than wasted. This will ensure that bus fleets can give energy back to the grid where needed.
"This smart ecosystem will be vital in ensuring that EV fleets not only bring immediate environmental benefits, but also support balancing the increase in demand of energy from the grid by enabling vehicle telemetry, tariffs and charging points to interact with each other more closely. Smart EV charging is the way forward if we hope to achieve complete electrification of transport, and protect the grid from the increased amount of pressure it will sustain from the uptake in demand from charging stations."
Tanya Sinclair, Policy Director for UK & Ireland at ChargePoint ChargePoint welcomes TfL's commitment to only ordering zero-emission buses to ensure the entire London fleet is zero-emission by 2037. Transportation is responsible for about a quarter of global emissions and whilst public transport, especially buses, make up a small portion of this, electrifying and making buses greener is a vital component in the UK's ability to reach its net zero emission goals by 2030 and ensures more Londoners can experience the benefits of electric mobility. However, achieving the complete electrification of buses is no easy feat. Electric buses require significant investment in charging infrastructure. Around the UK, local authorities must be prepared to invest in technologies which support sustainable clean transport as well as national initiatives to ensure electric grids can meet the increased demand from charging. Large bus operators need comprehensive support which covers every aspect of the electrification challenge – power and capacity, not just vehicles and chargers. Policy and private businesses must work hand-in-hand to achieve the electrification of public transport.