In Lockdown, British families have seen how reducing air pollution improves their neighbourhoods and, with the climate emergency looming, there is awareness of the need for a green recovery. Electric cars offer the chance for households to make a big reduction to their carbon footprint, but they generally come with a high price tag. A new website launching this week aims to help customers find the right car for their journeys – and the home energy to make it affordable, and as green as possible.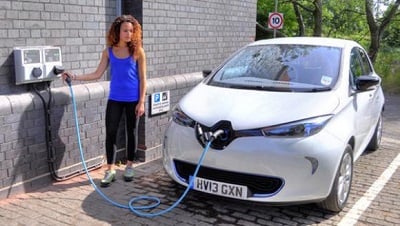 Power My EV has been created by husband and wife duo Mat and Laura Thomson, who live in Monmouthshire, Wales with their three children. The couple were inspired to set up the online offering after making the decision to switch to an electric car early in 2019. They found that choosing an EV wasn't a straightforward process, but the driving experience and everything about 'going electric' was exciting and full of possibility.
With a background in renewable energy, Mat developed an algorithm to compare all electric vehicles on the market. He assessed how each car fitted with his family's typical journeys and how powering it with clean energy improved the payback and carbon saving. He wanted to select the best car and energy match whilst also picking the finance option that offered the best returns. Further down the line, Laura began to research off-peak energy tariffs for their home, and soon enough the couple were charging their car and turning on appliances in their home to coincide with greener, lower-priced electricity. They saw a clear and distinct gap in the UK market to help the consumer shift to an affordable electric car with a clean energy package. Power My EV was born.
The online assessment – which shouldn't take more than 10 minutes to complete – gives users the option to explore all electric cars on the market according to their size preference, monetary budget and any other requirement they may have (e.g. fast charging, number of seats, large boot etc). Customers are then matched with three of the most suitable electric vehicle options. After a short questionnaire on how the car will be used, the assessment then moves onto the home, to build a snapshot of how and when electricity is used. Once completed, the site calculates the electric car and home energy that best matches the user – showing the amount of CO2 they're likely to save and the length of time it will take to 'pay back' the electric technology with lower running costs. The site shows users the best finance and leasing deals.
Despite initially having to pay more to lower their carbon footprint, by utilising the Power My EV matching tool, consumers will soon find that the one-off additional costs will start to pay back. The overall aim of the start-up is to show people how they can save money and help towards saving the planet in the process.
Mat and Laura Thomson, Founders of www.powermyev.co.uk commented on the launch:
"We are really excited to launch Power My EV and help to make life a little easier for the thousands of Britons contemplating making the switch to a greener lifestyle. Many people feel that making the move to an electric vehicle and green home energy, like solar, can cost a lot of money. We want to show how it can be affordable if you do it right, and in fact, it can actually work out cheaper in a surprisingly short time.
"Our website is 100% free, offering up impartial assessments with no obligations for users wanting to make their lives more environmentally friendly. For those that do want to take the next steps, we can connect you to a test drive, free home energy assessment and even help you switch to the best off-peak tariff for your household's energy."