Volkswagen Commercial Vehicles has revealed a new prisoner transport van for police forces based on the Volkswagen Transporter.
The van features a full width rear prison cell with space for two prisoners, designed to ensure safe transport for occupants. The rear also features seating for an officer to accompany prisoners on journeys and a double latch security system to prevent the rear doors from being opened from the inside.
The cell van has also undergone a complete "blue light" conversion featuring LED lights, 100-watt siren and full police livery.
The conversion, carried out by Volkswagen Commercial Vehicles' Approved Blue Light Converter Safeguard SVP in Essex, uses the Volkswagen Transporter in Trendline trim as the base vehicle. Under the bonnet is the 2.0-litre 150 PS diesel engine, which delivers a balance of performance and economy.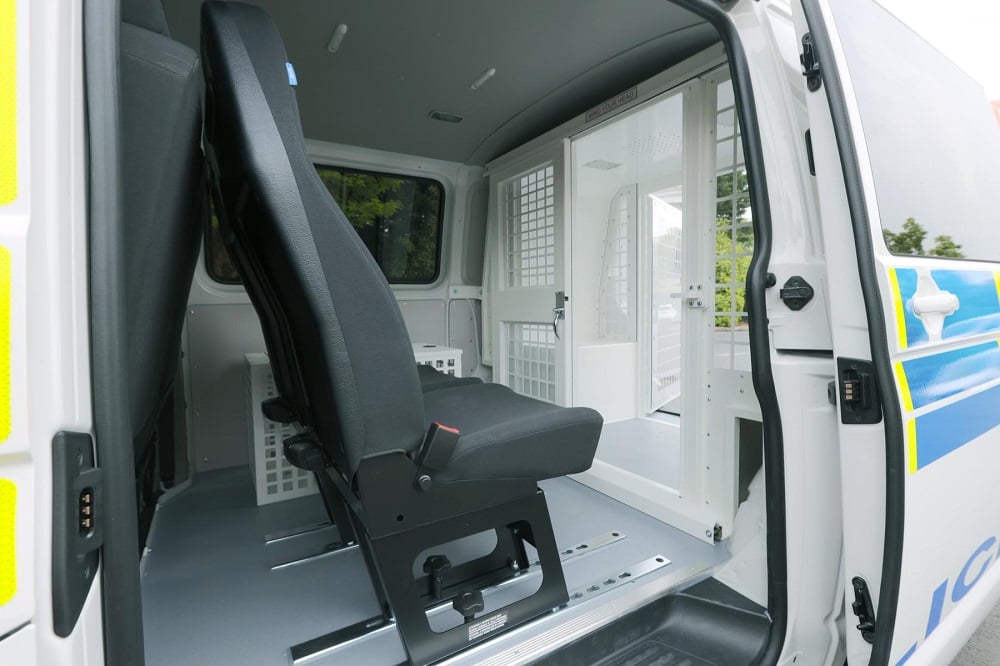 Steven Cowell, Technical Sales Manager at Volkswagen Commercial Vehicles, said: "This has been a landmark year for our blue light conversions with the cell van rounding out a trio of new products on the market. This vehicle offers police forces a practical, reliable and economical solution to prisoner transport and we expect it to be a big hit once it joins the fleet."
Public sector fleets, like police forces or ambulance services, often require specialist conversions. Volkswagen Commercial Vehicles offers a range of conversions to the Crown Commercial Service for different operational purposes through its expert in-house conversion team alongside its Approved Blue Light Converters. Already this year, the brand has unveiled a Crafter riot van (shown for the first time at the CV Show in April), which includes a single prisoner cell, plus the Caddy dog van, with bespoke kennel.
The Volkswagen Transporter cell van is now on the brand's blue light demo fleet for police forces to trial having debuted at the NAPFM Emergency Fleet Exhibition last week.