The UK new car market declined in 2019, with annual registrations falling for the third consecutive year,2 according to figures released today by the Society of Motor Manufacturers and Traders (SMMT). 2,311,140 units were registered last year, representing a -2.4% decline as the turbulent market reacted to weak business and consumer confidence, general political and economic instability and confusion over clean air zones.
The annual decline was driven primarily by falling private demand, with registrations from consumers down -3.2%, while the small volume business market also fell, down -34.4%. Fleet registrations, meanwhile, remained broadly stable, up +0.8%. Demand fell across nearly all vehicle segments, with only the dual purpose and specialist sports categories experiencing growth, up +12.0% and +19.2% respectively. Despite registrations of superminis and lower medium cars falling (by -6.0% and -4.0% respectively), these smaller vehicles remain the most popular – with a combined 57.1% market share.
There was modest growth in demand for petrol cars, up +2.2%. However, this was not enough to offset the significant -21.8% decline in diesel registrations. December marked the 33rd month of diesel decline, as continued anti-diesel rhetoric and confusion over clean air zones hit demand. This has resulted in drivers keeping their older, more polluting vehicles on the road for longer, holding back progress towards environmental goals.
Registrations of battery electric cars surge to record levels, up +144.0%, with a further 23 new models set to hit showrooms in 2020.1 Bucking the overall trend, combined alternatively fuelled vehicle (AFV) registrations surged in 2019 to take a record 7.4% market share. Hybrid electric vehicles (HEVs) continued to dominate this sector, with registrations increasing +17.1% to 97,850 units. Battery electric vehicle (BEV) registrations experienced the biggest percentage growth, rising +144.0% to 37,850 units and overtaking plug-in hybrids for the first time.
While the huge increase in BEV demand is welcome, their 1.6% market share is still tiny and underlines the progress needed to reach the 50-70% share the government envisages in the next 10 years. This ambition has not been helped by the significant decline of zero emission-capable plug-in hybrids, down -17.8% – further evidence of the consequences of prematurely removing upfront purchase incentives before the market is ready.
The figures come as SMMT publishes data showing the UK new car fleet average CO2 rose for a third successive year, by +2.7% to 127.9g/km. Massive investment by manufacturers into advanced powertrains, lightweight materials and aerodynamics means new cars are ever more efficient, with new cars emitting, on average, some -29.3% less CO2 than models produced in 2000. However, this could not offset the overall rise which was due primarily to the effect of the more stringent WLTP test of new models, which generally ascribes a higher CO2 value than the older NEDC test to the same model, as well as some segment shifts and the decline in diesel.
December ended a turbulent year on a positive, however, with the market up +3.4%. Fuel type demand mirrored that seen throughout the year, with diesel declining -19.0% and petrol rising +2.6%. Battery electric vehicles saw another huge increase in the last month of the year, up +220.7%, while PHEV registrations grew for only the fourth month this year, up +21.8%.
Mike Hawes, SMMT Chief Executive, said, "A third year of decline for the UK new car market is a significant concern for industry and the wider economy. Political and economic uncertainty, and confusing messages on clean air zones have taken their toll on buyer confidence, with demand for new cars at a six-year low.
"A stalling market will hinder industry's ability to meet stringent new CO2 targets and, importantly, undermine wider environmental goals. We urgently need more supportive policies: investment in infrastructure; broader measures to encourage uptake of the latest, low and zero emission cars; and long term purchase incentives to put the UK at the forefront of this technological shift. Industry is playing its part with a raft of exciting new models in 2020 and compelling offers but consumers will only respond if economic confidence is strong and the technology affordable."
Despite the overall decline in 2019, the UK car market remains the second biggest in the EU, behind Germany. It is also one of the most diverse, with buyers able to choose from some 350 different models available in various fuel types and body styles to suit all driving needs. With nearly 90 exciting new generation models – 23 of them zero emission cars and 11 plug-in hybrids – set to make their showroom debuts in 2020, and some compelling deals on offer, the industry is committed to new technology that will benefit consumers and the broader environment.
Jon Lawes, Managing Director, Hitachi Capital Vehicle Solutions reacts to SMMT car sales figures: "The decline in overall car registrations to reach a six-year low makes for concerning reading; although amid the political and economic uncertainty, a stall in growth in 2019 will have been expected.
"However, the strong growth in electric vehicle registrations throughout 2019 will provide the industry with cautious optimism for the year ahead. The record market share for electric vehicle registrations can largely be attributed to changing consumer patterns and increasing levels of confidence in the range of options provided by electric vehicle manufacturers. This is supported by our recent research, which found that 62% of consumers support the transition towards electric vehicles.
"That being said, alternatively fuelled vehicles (AFVs) accounted for only 7.4% of total car registrations in 2019 as CO2 levels rose for the third consecutive year. In order to achieve further growth, the industry and government must address key issues such as charging infrastructure and financial incentives to power the transition to AFVs."
Ashley Barnett, Head of Consultancy at Lex Autolease: "Vehicle emissions continued to dominate the headlines in 2019 – with the new WLTP emissions testing cycle continuing to impact the corporate fleet sector, a heavily anti-diesel agenda running in parallel and low-rate Benefit-in-Kind (BIK) for battery electric vehicles (BEVs) from April 2020.  The results of this are clear: a significant percentage increase in battery electric vehicles (BEVs), and a move from diesel to petrol.
"According to the SMMT's most recent New Car CO2 reports, the average CO2 emissions figure for new cars has been rising, which could be an unintended consequence of the push against diesel but will also include the impact of the change in test cycle (with some manufacturers seeing an increase in quoted emissions of 20 per cent).  It will be interesting to see whether this trend has continued when the next edition of the report is published.  Many of the very latest diesel vehicles emit lower levels of greenhouse gases than their petrol counterparts, and should therefore be factored in when drivers are choosing the most suitable vehicle for their needs.
"The percentage increase in BEV registrations should also be interpreted with care – while we're undoubtedly heading in the right direction, it's from a very small base.  The 37,850 BEVs registered in 2019 represent just 1.6 per cent of the total new cars on the roads.
"This is why we still need to see compelling fiscal support and on-road perks in 2020, to reduce the upfront and in-life cost of a BEV, and to increase the rate of adoption in line with the country's Road to Zero targets. We look forward to the next Budget and are hopeful that the 0 per cent BIK rate for EVs will be enshrined in legislation for an extended period, so that company car fleets can lead by example."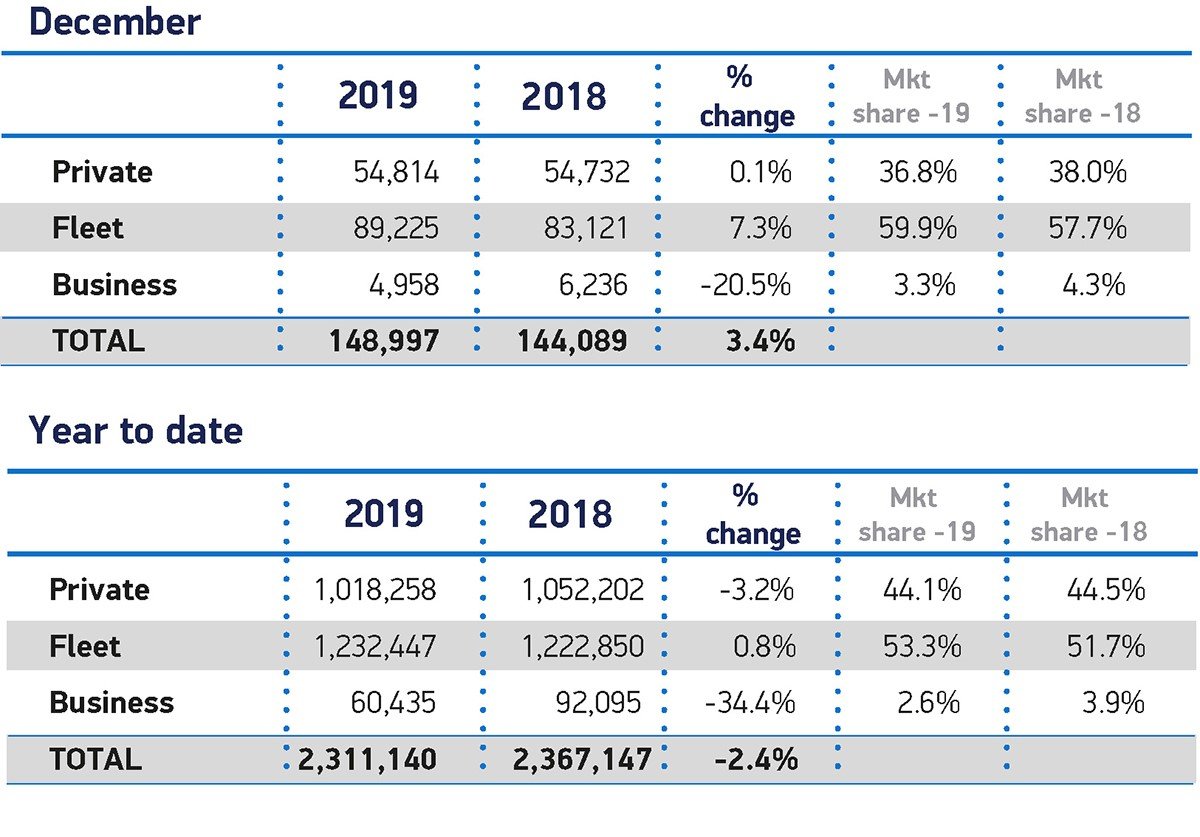 ---
23 new BEV models expected to launch in 2020, alongside 10 PHEVs and 1 FCEV – a total of 34 plug-in models.
The market fell -6.8% in 2018 and -5.7% in 2017. The 2019 market is the lowest since 2013 when 2,264,737 were registered.