The UK new car market fell -39.5% in January with 59,030 fewer registrations compared to the same month last year, according to figures published today by the Society of Motor Manufacturers and Traders (SMMT). Just 90,249 cars were registered as showrooms across the country remained shut, leading to the worst start to the year since 1970.1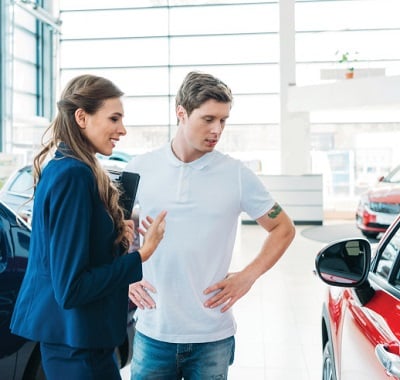 Demand remained depressed for both private buyers (-38.5%) and large fleets (-39.7%). Declines were also recorded in both petrol and diesel cars registrations, which fell by -62.1% and -50.6% respectively. On a positive, however, battery electric vehicle (BEV) uptake grew by 2,206 units (54.4%) to take 6.9% of the market, as the number of available models almost doubled from 22 in January 2019 to 40 this year. Combined, BEVs and plug-in hybrid vehicles (PHEVs) accounted for 13.7% of registrations.
With lockdown restrictions in place until March – the most important month of the year for the sector, accounting for one in five new car registrations on average – the industry will face a challenging year as showroom closures depress consumer demand, which has a knock-on effect on manufacturing output. Opening dealerships as soon as it is safe to do so would help re-energise consumer confidence, supporting jobs and a green recovery.
The effect of the current lockdown can be seen in SMMT's latest market outlook. Having expected more than two million new cars to be registered in 2021, this forecast has now been downgraded to below 1.9 million given the more severe negative impact on first quarter performance and March in particular. The forecast does represent an increase of 15.7% compared to 2020's 'lost year' but it would still be a very subdued market in historical terms, given the 10-year average new car market to 2019 was 2.3 million.2 More positively, however, BEVs and PHEVs are estimated to grow their combined market share from just over one in 10 new cars, to more than one in seven.
Such growth in ultra low emission vehicles would continue the trend seen in 2020. Latest SMMT analysis shows that 2020 recorded the largest ever fall in average car CO2 emissions, spurred on by increased uptake of BEV, PHEV and hybrid electric vehicles (HEVs) which accounted for almost one in six new car registrations. In fact, more than half of all BEVs registered in the past two decades were registered in 2020 alone. Combined with ongoing improvements to petrol and diesel engines, average vehicle CO2 dropped to 112.8g/km – a reduction of -11.8% compared to 2019 and -37.7% compared to 2000.
While all classes of car have reduced emissions by at least a third since 2000, one of the biggest reductions was achieved in dual purpose cars (-48.8%), aided by increased availability of BEV and other low emission models. Around 30% of dual purpose vehicles are now zero emission-capable, demonstrating their vital role in helping to reduce overall CO2 emissions.
There can be no let-up in the pace of environmental improvement, however, as the industry must achieve a UK-only CO2 fleet average target of 95g/km this year or face severe penalties. This underscores the need to get showrooms open as soon as Britain emerges from lockdown, so they can generate the demand required to reach the country's green goals.
Mike Hawes, SMMT Chief Executive, said, "Following a £20.4 billion loss of revenue last year, the auto industry faces a difficult start to 2021. The necessary lockdown will challenge society, the economy and our industry's ability to move quickly towards our ambitious environmental goals. Lifting the shutters will secure jobs, stimulate the essential demand that supports our manufacturing, and will enable us to forge ahead on the Road to Zero. Every day that showrooms can safely open will matter, especially with the critical month of March looming."
Michael Woodward, UK automotive lead at Deloitte, said: "New car sales saw their worst January for 50 years, falling year-on-year by 40% as national lockdown restrictions were tightened. With potential buyers unable to visit showrooms, click-and-collect has offered a valuable lifeline to dealers, alongside the more profitable businesses that most operate, such as MOT servicing and repairs.
Recovery in sight?
"Whilst there is considerable uncertainty within the industry, early indications point towards a recovery in the second half of the year once lockdown restrictions have eased.
"The extension of some major government and private sector income-support measures, such as the furlough scheme and payment holidays on loans, mortgages and credit cards, has boosted consumer confidence in personal finances. Increased personal savings, as a result of fewer opportunities to spend, also point to favourable conditions for renewed consumer activity which could unleash pent-up demand.
"Year-on-year sales results are typically a marker of performance but, with sales at record lows throughout 2020, growth is inevitable. Understanding the context of this will be key to gauging the health of the industry in 2021.
No respite for manufacturers
"The path to recovery for manufacturers is less clear. Last year car production in the UK fell by a third, slumping to the lowest level since 1984.
"This output decline has been compounded so far this year by supply chains and a shortage of semi-conductors, forcing some factories to temporarily halt production. With around 3,500 chips in a hybrid EV, compared to about 1,300 in a normal petrol or diesel vehicle, carmakers have been caught out by the growth in demand for EVs alongside electrical items, like tablets. For some manufacturers, this current shortage of chips means production plans may need to pivot.
EVs start the year on a high
"Continuing on from last year's success, EVs entered 2021 on a high with sales of battery electric vehicles (54%) and plug-in hybrids (28%) achieving a combined market share of 14%, continuing to exceed diesel's share of the market (12%).
"EVs are becoming an increasingly viable option for consumers, many of whom are influenced by financial incentives as well as climate and emissions concerns. However, for EVs to integrate further into everyday life, greater accessibility to charging points is still required. Ensuring a joined-up approach and continued investment in the infrastructure is key to support growing demand."
Jon Lawes, Managing Director of Hitachi Capital Vehicle Solutions, said: "Despite the industry low in car registrations continuing into the new year, there remains a quiet, cautious optimism from many in the sector for the remainder of 2021. The Government's promising vaccination roll-out, as well as new trade agreements in the pipeline for the UK, could lay the foundations for a strong recovery as the year continues.
"With lockdown restrictions set to ease in the second quarter of 2021, we can expect to see a release of pent up demand for new vehicles. As we start to return to 'normal', those consumers, businesses and organisations that  delayed buying or leasing vehicles due to the financial uncertainties of the past 12 months, and closed dealerships,  may now have the confidence to push ahead.
"Another positive for the new year is a continued increase in EV uptake in the face of a decline across petrol and diesel variants. Indeed, recently announced results show that Norwegians bought more EVs than fossil fuel variants in 2020 – a world first. With the 2030 ICE ban on the horizon, 2021 looks to be the year of the green revolution in the UK, as charging infrastructure accelerates to support growing demand and increasing numbers of manufacturers are set to bring more EVs to the mass market over the coming months. The industry must continue to encourage new buyers to future-proof their purchase by going green, by showcasing the number of mainstream and affordable EVs on offer."
Lucy Simpson, Head of EV Enablement at Centrica Business Solutions, said: "Throughout 2020 we saw growth across all electric and hybrid segments, outperforming petrol and diesel vehicles, and today's figures show that trend continuing, with registrations of battery electric vehicles up 54.4% compared to the same period last year.
"With growing attention on the Government's Road to Zero strategy and its commitment to 'build back greener' from coronavirus, financial incentives that encourage EV adoption and support the creation of better charging infrastructure must be among the priorities for the Budget on 3rd March. While the latest round of government funding for on-street charging points is welcomed, we must continue to accelerate the rollout to meet demand when the sale of new petrol and diesel fuelled vehicles is banned in 2030. It's important that this is done fairly to ensure the appropriate distribution of public charging infrastructure, our latest research showed that many local authorities are lagging behind and have no plans to improve their existing networks.
"Not only will mass adoption of EVs support the UK's carbon goals and provide a boost to the green economy through job creation, it can also unlock direct financial benefits for businesses that use the latest energy technology to monetise their EV charging facilities and trade with the grid."
---
1 January 1970 – 84,807
2 2010-2019 average – 2,330,307