The UK new car market recorded its fifth consecutive month of growth in December, with an 18.3% increase to reach 128,462 new registrations, according to the latest figures from the Society of Motor Manufacturers and Traders (SMMT). This second half year performance was not enough, however, to offset the declines recorded during the first half of 2022. Despite underlying demand, pandemic-related global parts shortages saw overall registrations for the year fall -2.0% to 1.61 million, around 700,000 units below pre-Covid levels.1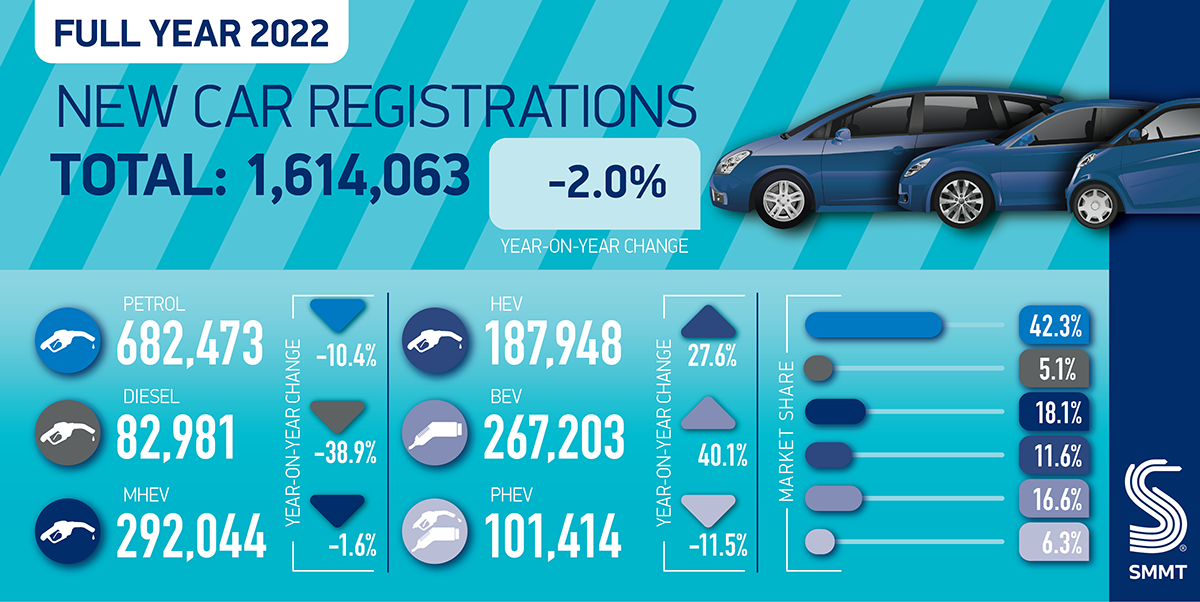 Constrained supply saw many manufacturers prioritise deliveries of the latest zero emission-capable models. December saw battery electric vehicles (BEVs) claim their largest ever monthly market share, of 32.9%, while for 2022 as a whole they comprised 16.6% of registrations, surpassing diesel for the first time to become the second most popular powertrain after petrol. Meanwhile, plug-in hybrids (PHEVs) saw their annual share decline to 6.3%, meaning that combined, all plug-in vehicles accounted for 22.9% of new registrations in 2022 – a record high, although a smaller increase in overall market share than recorded in previous years.2 Hybrid electric vehicles (HEVs) also enjoyed growth, rising to an 11.6% market share for the year. As a result, average new car CO2 fell -6.9% to 111.4g/km, yet again the lowest in history.
While private buyers accounted for more than half of all registrations, fleets and business buyers were responsible for the lion's share of battery electric vehicles, accounting for two thirds (66.7%) of all BEV registrations and 74.7% of the volume gain in 2022. Delivering the scale and speed of market transition required to meet climate change targets will require action to enthuse more private buyers to go electric. 3
Ensuring drivers in every part of the country can benefit depends on broader policies to encourage uptake of zero emission-capable vehicles during 2023. For instance, while the industry recognises the need for fair vehicle taxation, plans to introduce VED on BEVs from 2025 with the same 'premium' threshold as internal combustion-engine cars will disproportionately penalise those moving to electric. Higher production costs mean more than half of all BEV registrations this year would have incurred the 'premium' VED if it had been in place, a move which risks discouraging wider adoption.
Chargepoint provision also remains a barrier to EV uptake. The government's EV Infrastructure Strategy forecast that the UK would require between 300,000 and 720,000 chargepoints by 2030. Meeting just the lower number would still require more than 100 new chargers to be installed every single day. The current rate is around 23 per day.4
Manufacturers face a Zero Emission Vehicle Mandate from 2024 (the details of which have still not been published). As a result, accelerated investment in charging infrastructure is needed if consumers are to be confident they can make the switch and brands are to have a chance of securing sufficient supply to support UK market growth and not lose out to other markets which are investing more rapidly. Last year, Britain reclaimed its position as Europe's second largest new car market by volume, both overall and, specifically for plug-in cars.5 However, as of the end of Q3 2022, it was 13th overall by plug-in market share, behind markets including Norway (78.3%), the Netherlands (28.7%) and Germany (23.5%). 6
Mike Hawes, SMMT Chief Executive, said, "The automotive market remains adrift of its pre-pandemic performance but could well buck wider economic trends by delivering significant growth in 2023. To secure that growth – which is increasingly zero emission growth – government must help all drivers go electric and compel others to invest more rapidly in nationwide charging infrastructure. Manufacturers' innovation and commitment have helped EVs become the second most popular car type. However, for a nation aiming for electric mobility leadership, that must be matched with policies and investment that remove consumer uncertainty over switching, not least over where drivers can charge their vehicles."
Looking ahead, supply chains are beginning to stabilise and although the shortage of semiconductors is expected to ease, erratic supply will likely impact manufacturing throughout 2023. The most recent market outlook, published in October 2022, anticipates around 1.8 million new car registrations in 2023, worth around £8.4 billion in additional turnover.7
Jon Lawes, Managing Director, Novuna Vehicle Solutions: "Last year ended with a better-than-expected increase in EV ownership, with the number of EV registrations reaching a record market share of 32.9%, ending the year as the second most popular powertrain after petrol. We expect this positive trajectory to continue into the new year, despite supply issues continuing to hamper the industry's ability to meet demand.
"However, as we enter 2023, the road to net zero remains bumpy, with EV infrastructure  failing to keep pace with adoption. Our analysis shows that to hit Government targets, 30,000 new charging points will need to be built every single year for the next seven years, a tenfold increase in the number put in the ground in the past decade. Addressing the fragility of the current charging network, at scale and ahead of need, is critical to support mass adoption of EVs which requires urgent collaboration and investment from across the sector in the year ahead."
Fiona Howarth, CEO of Octopus Electric Vehicles, commented: "It's no surprise to see EVs take a greater overall market share in 2022. We're seeing plenty of pent up demand, with large order books and thousands of drivers waiting on their cars to be delivered as manufacturers try to bolster supply chains.
"EV popularity continues to grow month-on-month as more people understand the benefits of making the switch. The average driver can save well over £1000 a year on fuel costs compared to an old school gas guzzling car, while being able to charge at home provides many with greater convenience – making charging your car as easy as your phone. There's no doubt that 2023 will be another landmark year for the industry as we accelerate towards net zero transport."
Meryem Brassington, electrification propositions lead at Lex Autolease said: "2022 saw a significant acceleration on the road to electrification, with a record number of electric vehicles entering the UK car parc – a 40% year-on-year increase. This rise in EV registrations has been a positive light against a gloomier backdrop for the motor industry, with ongoing supply chain issues continuing to put the brakes on new models coming to market.
"For the UK to truly begin to lead the way in encouraging EV ownership, removing bumps in the road for new electric converts needs to be a priority for both government and industry as they make their New Year's resolutions. Greater availability of charge points in towns and cities right across the UK will be key, helping to address the postcode lottery that still exists for many drivers. Support also needs to be in place beyond 2023 for a fairer road taxation system that's focused on cleaning up the older, more polluting vehicles from the UK's roads, while also supporting demand in the growing second-hand EV market."
Chris Evans, Head of Sales at heycar, says: One of the biggest concerns dealers face this year is the recession. It is a worrying prospect for all, but it is important to note that the motor trade is in a much better position than in the 2008 recession.
Many may remember the UK vehicle scrappage scheme that was introduced in 2009 to support the industry following a record fall in car sales. Today, these incentives are not required due to the lack of new cars, with two-year lead times being quoted on some models. This means people who need to change their vehicle will buy a used car.
This supply and demand imbalance has created a bubble whereby used car values have remained strong. The heycar Used Car Price Index found that prices for three-year-old and five-year-old cars in December 2022 were 3.86% and 3.82% down respectively on the same month in 2021*.
Demand for EVs has also been dented by soaring energy costs and the removal of important government subsidies and although electric cars will continue to grow, demand in 2023 may not be in line with industry predictions as 2022 was a particularly unpredictable year.
According to heycar data, from January to the end of May 2022, when high fuel prices rocked the country, demand for EVs increased by 56%. However, demand dropped 60% between June and November.
It's too soon to say if we are seeing an overall decline in demand for electric vehicles. According to heycar data, EV leads were up 34% in December compared to the same point last year. However, our data also suggest that some motorists want the positives of electric vehicle ownership without the drawbacks of range anxiety and limited public charging infrastructure. As a result, many are choosing hybrid cars, with demand for these vehicles increasing by over 64% YoY.
Kim Royds, EV Director at British Gas, said: "The uptick of electric vehicle registrations was a bright light in a challenging year for the new car market in 2022. Record numbers of EVs entering the roads is proof that drivers are continuing to unlock the benefits of making the switch to electric as we accelerate the UK's journey towards net zero.
"To ensure that growth in the EV market is sustainable for the long term, we must look seriously at the country's charging network and its capacity to keep up with increasing demand. Ensuring everyone has access to suitable charging infrastructure is a critical milestone in the UK's electrification journey and expanding both at-home and public charging infrastructure must remain a top priority."
John Wilmot, CEO, car leasing comparison website LeaseLoco, comments: "It's time we saw progress in the rollout of chargepoints not rhetoric. Every month it's the same message about chargepoint provision being a significant barrier to entry to people switching to zero emissions motoring, but very little seems to change.
"Even if you take the the lower estimate of the government's EV infrastructure strategy forecast, that we need 300,000 chargepoints by 2030, almost two thirds of local authorities aren't installing charging points fast enough to even get close to this target.
"While EVs grabbing second spot in market share makes good headlines, the reality is that growth in electric vehicle ownership in the UK is actually falling according to the latest Department of Transport electric vehicle registrations data.
"Between Q2 2022 and Q3 2022, battery electric vehicle registrations increased just 9.8%, compared to 11.6% between Q1 2022 and Q2 2022, and 15.5% between Q4 2021 and Q1 2022.
"With the government's focus likely to be elsewhere in the coming months, as the country grapples with high inflation and the cost of living crisis, it's hard to believe that EV charger provision is going to be at the top of MPs' intrays."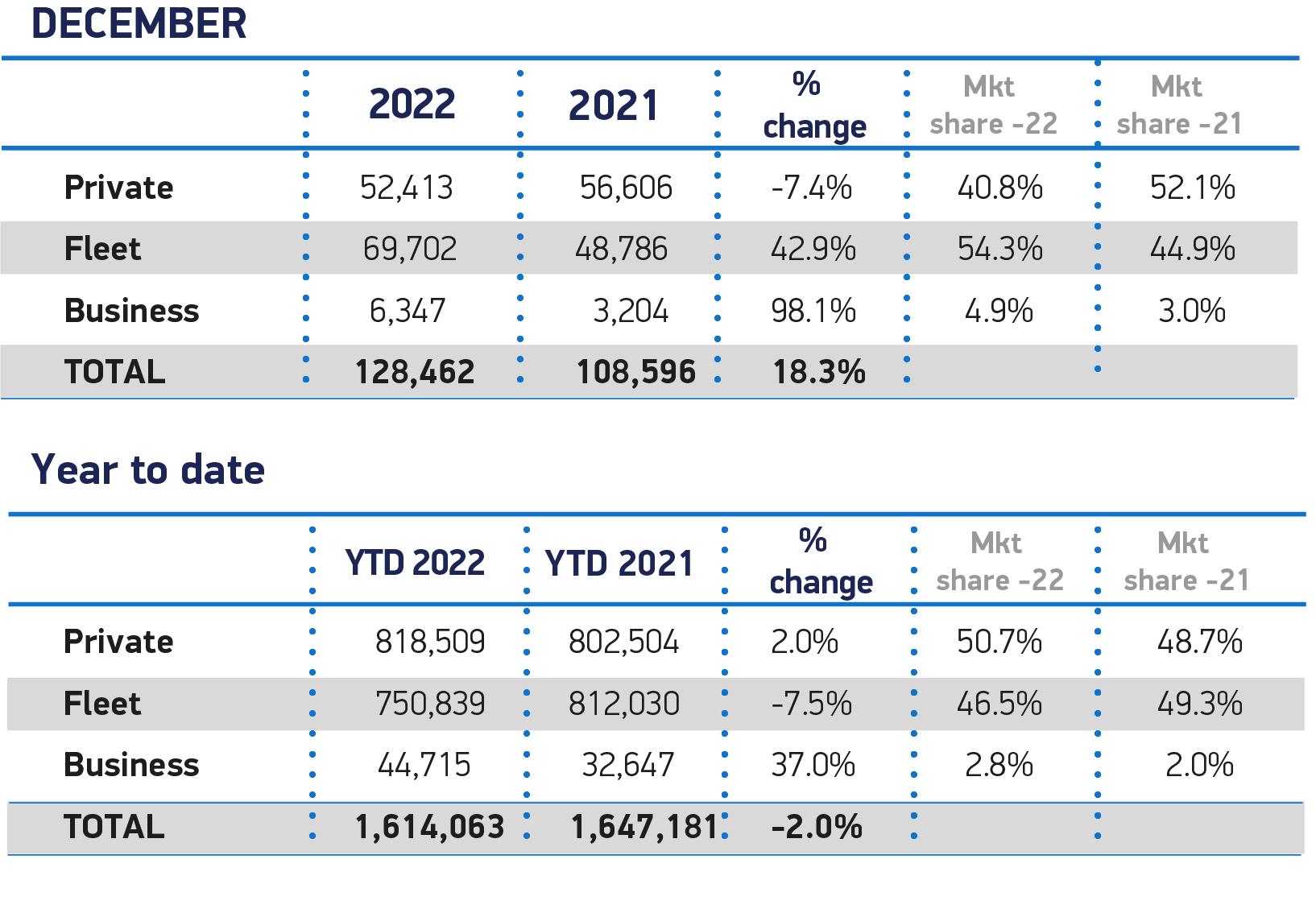 1 2019 new car registrations: 2,311,1405 ACEA: New passenger car registrations November 20226 ACEA: Fuel types of new cars. Plug-ins defined as Battery Electric Vehicles + Plug-in Hybrid Electric Vehicles 7 UK Automotive calls for urgent action plan to safeguard £14bn recovery as investment deadlines loom
2 2020 market share: 10.7%; 2021 market share: 18.6%; 3 SMMT research comparing registrations with retail prices recorded by Auto Express 4 Based on 263,000 chargers to be installed 1 Jan 2023 to 31 Dec 2029 inclusive; based on 6,262 chargers installed 1 Jan 2022 to 31 September 2022 inclusive