To meet the demands of the new Insurance Industry Requirements for the safe repair of ADAS-equipped vehicles, US-based asTech is amplifying its service offering in the UK.  The move provides bodyshops and SMR centres with the opportunity to have ADAS calibration, OE scans, diagnostics and resets implemented remotely by ADAS trained technicians, reducing the need to move vehicles to a dealership and helping bodyshops improve vehicle repair cycle times.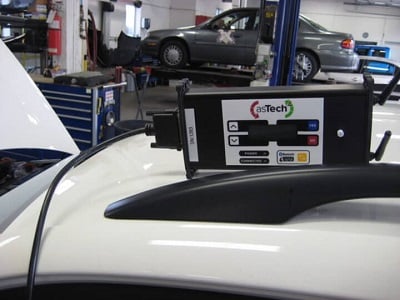 The comprehensive remote service is based on the asTech device which performs the functions required by today's bodyshops and service centres.  It leverages easy-to-use OE scanning tools to provide full vehicle scans, clearing of fault codes and calibrations on sensors, lidars and radars.
The OE tools guarantee that every fault code is recorded within the full scan and is managed, and the calibrations are completed aligned with OE standards and requirements 100 per cent of the time.  A full report is then sent on completion of the job to show exactly what has been carried out.
Technicians simply need to connect the device to the OBD2 port on the car and then to the asTech global app.  The assigned asTech technician then guides the user through the set up position required for the calibrations using target boards to ensure they have the right distance and height from the vehicle.  Once the device is plugged in, the remote asTech technician working on the vehicle links it to the relevant OE tool and completes the required service.
Richard Taylor, asTech European business development director, explains, "While there is still a lack of clarity of ADAS technology within the vehicle among bodyshops and SMR centres, asTech is offering a cost-effective solution that combines an easy-to-use device with the know-how and expertise of trained ADAS technicians.  Simply put, asTech reduces the need to move a vehicle to a dealership and helps the shop enhance the vehicle repair cycle time."