Stats show return of seasonal van de-fleet
By Kyle Lindsay
Wednesday, December 10, 2014 - 13:05
Comments (0)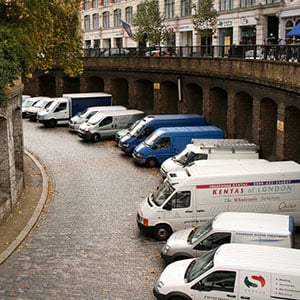 Return of the de-fleet
Seasonal van de-fleet pattern returns, says Manheim
Despite a significant influx of de-fleet volume year-on-year, the average price of vans at auction has remained remarkably strong at £4,552 according to Manheim's latest monthly analysis of the wholesale CV market.
November saw a significant volume increase of stock entering the wholesale market, an impressive 32% more than in November 2013 which heralds a welcome return to seasonal de-fleet patterns which have not been seen for several years. Manheim states this return to seasonal de-fleeting follows the traditional time lag post September plate change and is a further sign of confidence and normality returning to the market.
James Davis, director of commercial vehicles at Manheim, commented: "It is heartening to see the typical seasonal de-fleet pattern returning this year. Supply continues to track behind demand, so it promises a stable end to the year and a fantastic kick start to 2015, just as we predicted earlier in the year."
While the overall performance of the CV market remained strong in November, an increase in older vans affected values in certain segments.
Compared with the previous month, the average sale price of large panel vans (over three tonnes) fell by 13.7%, to £4,871. This was due to an increase in age and mileage, with nearly half of the large panel vans sold during the month having an average age of more than seven years (89 months). A similar story was seen in small panel vans, where 52% of all examples sold had an average age of eight years (97 months).
Looking into the future, James Davis adds: "We believe 2015 will be the year of transition, leading to a return to true normality for the van market in 2016. The market has stayed strong in recent weeks, despite the volume increases, and I predict that it will continue to remain robust into the new year."
Related Stories