Consistency is key for fleet sector, as market continues to re-align
By Kyle Lindsay
Friday, January 9, 2015 - 16:00
Comments (0)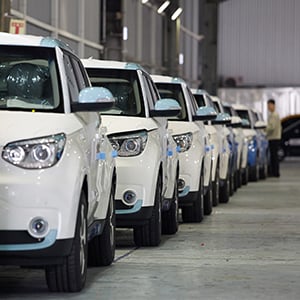 Is learner driving enough? IAM think not
Fleet registrations increase by 8.7% across 2014
Data from Manheim's monthly Market Analysis reveals that the average price of a de-fleeted car at auction now stands at £6,693 – just £102 shy of December 2013's figure. With fleet registrations increasing by 8.7% across 2014, there are clear signs that business confidence is increasing – and this could well impact upon values in the de-fleet sector going into the New Year.
Looking at values across the whole of 2014, Manheim's Market Analysis shows that the overall wholesale price of de-fleeted cars settled in the final quarter of the year – in comparison with the fluctuating monthly values that characterised January to June 2014.
Daren Wiseman, valuation services manager at Manheim, comments: "2014 was an interesting year for leasing companies seeking to get the best value for their de-fleet stock. The month-on-month average pricing saw some quite sizeable variations early in the year, but this has noticeably calmed from July onwards. As the market continues to settle, we've seen prices return to typically expected seasonal norms."
Wiseman continued: "New car sales were at their highest point in ten years in 2014, and fleet registration was up by 8.7%. This sharp upturn in volume is likely to be felt in the fleet sector, so my advice for leasing companies going forward is to be selective with their remarketing strategies. Manheim offers a number of channels through which to retail stock, and leasing businesses should take advantage of these to ensure they are able to attain the best residual values. If businesses are sophisticated about the remarketing strategies they employ, 2015 should build on the successes of the past year!"
Taking a closer look at the individual performance of each vehicle type, an increase in value year-on-year can be seen for five of the 10 segments analysed. The biggest yearly jump is seen with coupes, which saw prices rise from £8,887 in December 2013 to £9,601 a year later; a value increase of 8%. This increase comes in spite of upturns in both age (from 57 to 60 months) and average mileage (59,962 to 61,474).
Related Stories